By Timothy Cox
tcox@dailystandard.com
A local weight lifter is preparing to turn professional and officially become one of the strongest men in the world.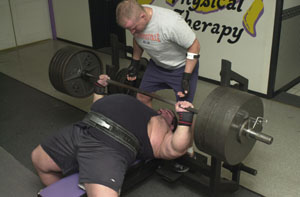 Mike Wolfe, 30, of Celina, plans to enter the American Powerlifting Federation Cash or Crush Championships in Middletown on April 30, his first pro event. In Middletown, Wolf plans to bench press as much as 850 pounds. There is a $1,000 top prize on the line.
So exactly how does one hoist more than twice their own body weight off their chest and into the air?
"It's all about technique," explained the Crown Equipment Corp. welder. "Most people lift with their chest. I'm a belly-bencher."
Wolfe became interested in weightlifting shortly after graduating from St. Marys Memorial High School in 1993. At the local YMCA, Wolfe met New Bremen police Sgt. Randy Houseworth, a three-time Police Olympics bench press champion. Wolfe started working out with Houseworth and in two years raised his bench press from less than 200 pounds to more than 500 pounds. His body also began to take on the dimensions of a power lifter. After high school, Wolfe said he had a 46-inch waist and weighed 270 pounds. Today, he still has the 46-inch waist but his beefy, muscular frame now carries about 400 pounds
Wolfe won some amateur weightlifting competitions in the mid-1990s and was the state junior class champion in 1995, 1996 and 1997. He then left weightlifting for a period, dabbling with competitive paintball and ultimate fighting.
Wolfe competed in a single United States Fighting Championship event, where the bare-knuckled brawls are all-too-real. One event proved to be enough of the ultimate fighting experience for Wolfe.
"It was kind of like some people are with skydiving. They have to try it one time and then never again," Wolfe said.
When he returned to weightlifting, Wolfe turned serious about the sport. He now trains twice per week at Genesis Gym north of Celina, twice per week at Breakaway RecPlex south of Celina and once weekly at Westside Barbell, a private powerlifting club in Columbus. Wolfe rises at 4:30 a.m. on Sunday mornings to make the Columbus trip.
He is trained by George Halbert, a 12-time world record holder in weightlifting and coached by Louis Simmons, a world-renowned powerlifting guru.
Wolfe is now closing in on becoming a member of an elite class of weight lifters. Gene Rychlak of Pennsylvania is the current world record holder for bench pressing at a whopping 1,005 pounds. Wolfe has successfully lifted 835 pounds during a competition-legal lift during training. If he successfully lifts 800 or more pounds at the Middletown competition, he will join the elite class.
Only two men in addition to Rychlak can lift more than 900 pounds, Wolfe said. Another dozen or so men have lifted more than 800 pounds in competition and a handful of others like Wolfe have lifted more than 800 pound, but not during a certified competition.
Before the Middletown competition, Wolfe will be appearing as a guest lifter at the first Touch-and-Go Bench Press scheduled for March 12 at the YMCA in Wapakoneta. Wolfe will be lifting up to 600 pounds that day.
In Middletown, Wolfe will get three attempts. He plans to lift 800 pounds, then 825 and then 850. If he is successful on all three lifts, he then will try an exhibition lift of 900 pounds that will not count toward the scoring.
Phone: (419)586-2371, Fax: (419)586-6271
All content copyright 2005
The Standard Printing Company
P.O. Box 140, Celina, OH 45822