By Ryan Hines
rhines@dailystandard.com
DAYTON -- Minster will be playing for a berth at the Division IV state tournament after defeating St. Bernard-Elmwood Place, 67-55, on Tuesday in regional semifinal action at the UD Arena.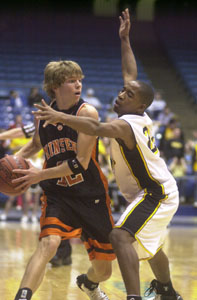 The Wildcats (20-4) advance to Friday's regional final against Lockland (23-2), which defeated Cedarville, 58-48, in the first regional semifinal contest on Tuesday. It will be the first time that Minster has reached the regional finals since the 1998 season.
"I'm really proud of the kids because they played hard, just like they have all season long," said Minster head coach Mike Lee.
Minster came out focused and hitting on all cylinders in the opening stanza as the Wildcats took control of the game in the early going.
With the Titans' tallest player standing just 6-2, Minster looked to get 6-5 center Justin Spillers involved in the offense right from the start. Spillers struggled in the Wildcats' two district tournament games totaling just three points on 1-of-11 shooting with nine fouls in two Minster wins.
"Justin only had three points in two district games, but on the flip side, he played outstanding defense in those two games and helped us get here," said Lee. "He's capable of putting up numbers for us. He's had three or four nights where he's had double-doubles for us. We addressed to our kids that we wanted to get the ball inside early to Justin and we were able to have success with that."
On Tuesday, Spillers had six points and four rebounds in the first three minutes of the game and forced the Titans' defense to collapse in the paint opening the perimeter and penetration lanes for the rest of the Wildcat players.
Once the Titans began to crowd the paint to stop Spillers, Andy Beckman and Zac Boeke hit back-to-back three-pointers to give Minster a 15-6 lead.
"The story for us all year long is that we are undersized and the difference with Minster is that they also have so many other shooters that they can put out there to hit open shots," said St. Bernard-Elmwood Place head coach Mike Radtke. "Anytime that we went in the post to help out, they had somebody make us pay for it. They have a lot of good players that can also pass well too, so they are a difficult team to guard."
The Titans were never able to cut into the Minster lead much until late in the third quarter.
Minster's lead grew to as many as 15 points in the third quarter but the Titans closed the third quarter with a 12-3 run to cut the Wildcats' deficit to 45-39 entering the fourth quarter.
The Titans' Quincy Curry opened the fourth quarter with a layup cutting the Minster lead to just four points, but the Wildcats' Jake Luttmer hit a trey which seemed to knock the wind out of the St. Bernard comeback.
"That was a big three that they hit there," said Radtke. "I think that we needed a little more energy. I think that we got tired after we got it to four. We had a couple of turnovers and we took some bad shots."
"Jake had only one good look from the perimeter tonight and he hit it and it was a big shot for us," said Lee.
St. Bernard never got any closer than five points the rest of the way as Minster converted on 11-of-14 free-throw attempts in the fourth quarter to earn its berth in the regional finals.
Spillers led Minster with 16 points and a game-high 10 rebounds while Dane Sommer added 15 points and seven rebounds. Beckman was the third Minster player in double figures with 12 points.
Aaron Byrd led St. Bernard with 16 points while Ben Haarman and Curry added 13 and 10 points, respectively.
Minster, which had struggled shooting thus far in the postseason, shot 24-of-45 from the field (53.3 percent), including 11-of-18 (61.1 percent) in the second half.
"We shot the ball much better tonight than we had in the tournament since the sectional tournament started," said Lee. "That's good to see, we're going to need a bunch of that on Friday night."
Although Lee is very happy to be playing in the regional finals, he also knows that a true challenge awaits the Minster at UD Arena on Friday.
"Lockland is a very good team and they probably have triple the athleticism than what we saw tonight," admitted Lee. "My kids won't relate to it, but back in 1998 we played Dayton Jefferson in the regional final and that would probably be a very comparable team because of all the athleticism that they will have. It's only gonna take about 30 seconds for our kids to realize that we're going to have to step it up a notch on Friday."
Phone: (419)586-2371, Fax: (419)586-6271
All content copyright 2005
The Standard Printing Company
P.O. Box 140, Celina, OH 45822