By Janie Southard
jsouthard@dailystandard.com
Only two Ohio high schools were awarded top ratings by the American Scholastic Press Association in the 2004 literary and art magazine contest. Even through a couple hundred miles apart, both top schools share a Celina connection.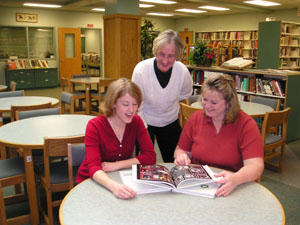 Awards for first place with special merit designations were awarded to Celina High School for "ReQuest 2004" and to Green Local Schools, near Akron, for "A Touch of Green." Green's curriculum director and magazine adviser is Connie Leonard, who graduated from Celina High School in the late 1950s.
"Quite a coincidence, isn't it, that the top rated schools in Ohio can both trace back to Celina," said English teacher Chuck Smith, who is adviser to both "ReQuest," the literary and art magazine, and "The Tattler," the school newspaper.
Now in its 12th year of publication, "ReQuest" is completely the work of students. Smith told The Daily Standard earlier this week he only advises, "it's the kids who do all the work from scratch."
That means they produce the art and text that go into the 36-page literary publication; and also do all the photography, design and layout of the entire magazine, which is printed by Tri Star Graphics. There are no ads in the magazine so next year's publication is dependent upon sales of the current year's effort. It's all done on a "shoestring," Smith said.
This is the second consecutive year the school magazine got the top award and the third in the past four years.
Sarah Valentine also was named one of five outstanding artists in the country by American Scholastic.
Valentine has three art pieces featured in "ReQuest 2004." They are a pastel titled "Vietnam," an oil painting, "Gumball Machine," and an oil pastel, "Young Man, Young Woman."
But the literary magazine is not the only Celina High School publication to bring home honors.
The 2004 Anilec (the school yearbook) staff has received an Award of Excellence by Taylor Publishing Company recognizing design and coverage.
Yearbook advisers Amy Sutter and Connie Opperman give full credit to the Anilec staff of 60 students who develop the theme and take full responsibility for page authorship.
Sutter said part of the required submission was to send what the staff considered its 10 best spreads (two-page combos). One of her own favorites was in sports because it recognized so many kids. "We try to include as many kids as possible throughout the book," Sutter said.
Senior Lindsay Puthoff is the yearbook co-editor along with Janessa Wenning, and for the past two years Puthoff also has served as editor of "The Tattler," the school newspaper.
Opperman praised the community for its support. "If we couldn't sell ads, there could not possibly be a yearbook," she said.
Phone: (419)586-2371, Fax: (419)586-6271
All content copyright 2005
The Standard Printing Company
P.O. Box 140, Celina, OH 45822