By Ryan Hines
rhines@dailystandard.com
Judging by Tuesday's post-game press conference following the regional semifinal win, Minster head coach Mike Lee is certainly excited but also concerned about Friday's matchup in the Division IV regional final at UD Arena.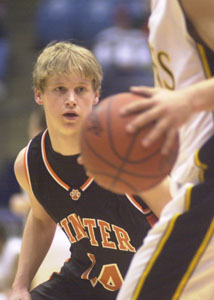 Minster (20-4) will be facing Lockland (23-2) at 7:30 p.m. on Friday with a berth in the state final four on the line.
"The kids have worked so hard all year long and they deserve this shot on Friday," said Minster head coach Mike Lee, following the Wildcats' win in the regional semifinals on Tuesday.
Just minutes after winning the regional semifinal contest over St. Bernard-Elmwood Place, Lee noted on several occasions the challenge that lies ahead against Lockland.
Lee is concerned for good reason when looking at what Lockland brings to the court. Lockland is an up-and-down the court type of team that likes to pressure fullcourt and fastbreak whenever possible as the Panthers are averaging 74.7 points per game on the season.
The Panthers are an athletic team that's led by Dajuan Harris who plays much bigger than his frame would suggest.
Harris is averaging 20.1 ppg. to lead way for the Panthers, but what may surprise some is that the 6-2 junior backcourt player is leading Lockland in rebounds as well with 10.1 rebounds per game.
Tommy Cox (6-2, senior, guard) has also shown the ability to light up the scoreboard after posting 15.4 ppg. while adding 5.6 rpg.
Joining Harris and Cox in the starting lineup for Lockland will be Mack Ogletree (5-10, junior, guard), Dominic Smith (6-3, senior, forward) and Jordan Gibson (6-1, senior, guard). Ogletree is contributing 9.0 ppg. while Smith and Gibson are adding 1.6 ppg. and 6.2 ppg., respectively.
The bench is also strong for Lockland as the Panthers use a nine-man rotation. Antoine Wilhite is the top scorer off the bench for the Panthers at 9.2 ppg. while Derek Smith and Jason Sneed are adding 6.9 and 5.8 ppg., respectively.
"Lockland is a very good team and they probably have triple the athleticism than what we saw tonight," admitted Lee. "My kids won't relate to it, but back in 1998 we played Dayton Jefferson in the regional final and that would probably be a very comparable team because of all the athleticism that they will have.
"It's only gonna take about 30 seconds for our kids to realize that we're going to have to step it up a notch on Friday," continued Lee.
Minster will likely have a size advantage on Friday as no Lockland player stands taller than 6-3. Despite the lack of height, the athleticism has helped the Panthers to 34.5 rebounds per game, including 15.6 on the offensive glass.
"Lockland isn't a big team as far as height goes, but they are excellent at crashing the boards," said St. Bernard-Elmwood head coach Mike Radtke, who lost to the Panthers on two occasions this season and then to Minster on Tuesday ending their season. "Minster has some size which will allow them to compete on the boards."
The winner of Friday's contest moves onto the Schottenstein Center for the state semifinals where they would meet the winner between Zanesville Rosecrans (23-2) and Cle. Hts. Lutheran E. (19-5), which play on Friday night at the Canton Fieldhouse.

NOTE: The Minster-Lockland Division IV regional final will be broadcast via tape-delay on WTLW TV-44 at 11 p.m. on Friday night.
Phone: (419)586-2371, Fax: (419)586-6271
All content copyright 2005
The Standard Printing Company
P.O. Box 140, Celina, OH 45822