By Janie Southard
jsouthard@dailystandard.com
ST. MARYS -- "Study, snip, cut, but never, never top" is the advice from the Ohio Division of Forestry (ODOF) as related to 35 volunteers at a tree pruning clinic held Thursday.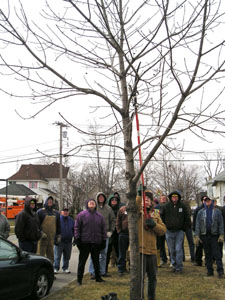 The clinic in St. Marys was one of four regional pruning clinics being conducted by Stephanie Miller, urban forester, with ODOF. Clinics also are being held in Kenton today, Versailles and Bluffton next Tuesday and Wednesday.
Following the January ice storm, Rachel Barber, a former Wapakoneta Tree Commission member, approached Miller with an idea to form a pruning corps of volunteers to assist towns and villages in repair and prevention pruning on small trees.
Armed with before and after photos and a dozen or more pruning tip handouts, Miller spoke of crown cutting, crown thinning and other techniques.
"Crown cutting is removing all that junk that's growing or caught in the crown. The ice storm caused a lot of small and medium limbs to fall and lodge in the crown. That needs to come out for safety reasons as well as beauty," Miller said. Crown thinning is a selective cutting of limbs to refine the shape of the tree.
"Thinning is a good practice for communities because retaining the natural shape is attractive, and it tends to keep birds from roosting," she said.
However, beware of pruning tree limbs into a lion's tail, which is the result of cutting off small limbs from the trunk out and leaving only a bunch of small growth at the tips. That tree after a couple years can look "weird," Miller said.
"What will happen is that the tree will row a lot of irregular branches to try to fill in the gaps," she said, focusing on such a result on the video screen.
But, the big no-no in pruning is topping, which is the popular method to reduce the height of the tree. It is rarely needed and is frequently harmful to the tree.
As to the idea of painting a wound to the tree, Miller's comment was just don't do it. "Trees create their own wound covering," she said.
Following the classroom session, the group went outside for an equipment demonstration by employees of Asplundh, the tree pruning company with the bright orange trucks. Asplundh maintains a municipal tree service.
From there it was a caravan to a nearby city park where the volunteers got one-on-one training in actual pruning.
The pruning corps is a good program for local volunteers to support the efforts of their tree commissions, she said. Encouraging good structure for trees in the first 10 years after planting is an important investment, according to Miller.
Barber said a minimum commitment of 10 to 15 hours a year with the pruning corps can "make a big difference in the current and future health of public trees."
The volunteer service is targeted for municipalities and does not accept work on private property.
Phone: (419)586-2371, Fax: (419)586-6271
All content copyright 2005
The Standard Printing Company
P.O. Box 140, Celina, OH 45822