By Ryan Hines
rhines@dailystandard.com
What a difference a month makes.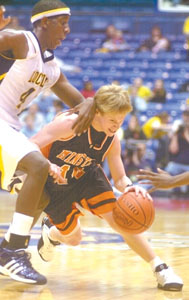 In the postseason opener, the Division IV sectional final, Minster was down 13 points in the fourth quarter against New Knoxville.
After completing the comeback against New Knoxville to win its seventh straight sectional crown, Minster now finds itself preparing for its first trip to the state tournament since 1965.
The Wildcats (21-4) will end their 40-year state tournament drought on Thursday at 5:15 p.m. when the Orange and Black meet Cleveland Heights Lutheran East (20-5) in the Division IV state semifinal at the Schottenstein Center in Columbus. Top-ranked Columbus Africentric (25-1) will battle Continental (22-3) in the other Division IV semifinal contest beginning at 8:30 p.m. The two winners of the Thursday semifinals will meet on Saturday at 2 p.m. in the state final.
Minster and Lutheran East have never reached the state finals but that doesn't mean that either team will be short on con-fidence on Thursday. "What we have to do is approach this game like it's any other game, but it has been a whirlwind with all the excitement around Minster," said Minster head coach Mike Lee, who also added that he hasn't missed attending a state tournament since before he was in fifth grade. "The community is so excited and pulling for us, but the kids have been able to keep a level head all year knowing that we just have to play our game. We were down 13 points to New Knoxville in the first tournament game but out kids didn't panic and we were able to battle through that and get to where we are now."
"We want to put a second boys state (the first being the 1989 state football championship) title up on the wall to go with all the banners that the girls have hung up there," said Minster senior Justin Spillers as he looked at the walls inside the Middle School Gymnasium. "We've dreamed of something like this since we were little kids watching other teams play at state and it's just a great opportunity for all of us. The whole community is excited and behind us. We can't go anywhere without hearing about it and it's great to see that everyone is as excited as we are."
"I'm overwhelmed with joy for these kids because they've worked so hard to get where they are right now," said Lutheran East head coach Roger McClinton. "They mentioned early on this year that they weren't getting any recognition from anyone for the season that they were having and I just told them that if they continue to play the way that they're playing that they would eventually get noticed. This is a team that's living for the moment and they want to show everyone what they can do this weekend."
Lutheran East, which has just 40 boys enrolled at the school, (Continued from page 1B)

has come along way from last year when the Falcons were saddled with an 0-20 record after turning itself in for using an ineligible transfer. The Falcons were 14-5 before being forced to forfeit the 20-game schedule.
"Last year was very difficult, I'm not going to deny that, but God has a plan for all of us and it was just a paper mistake that we made like so many other schools in Ohio have done and we were forced to deal with it," said McClinton, in his second season coaching at Lutheran East, who also doubles as the school athletic director. "We have four guys back from that team and they are very hungry for what lies ahead of them in Columbus."
Lutheran East ended the season out of the state rankings but find themselves in the state final four due to the play of its trio of outstanding guards.
Brothers Sam Liggins (5-8, senior) and Jon Liggins (5-8, junior) pace the Falcons scoring attack that has averaged 75.0 points per game this season.
Sam Liggins, the Northeast Lakes player of the year as well as the state co-player of the year, is the top scorer for the Falcons on the season putting up 21.9 ppg. while brother Jon is contributing 17.3 ppg. The third guard in the Falcons' starting lineup is Donnell Washington (5-11, senior) who is averaging a hefty 16.5 ppg.
"Sam has been getting offers from some Division I and II schools because he is a player that's very smart, athletic and can shoot, but the main thing that he does so well is get other players involved and that's his best characteristic," said McClinton. "We have guys that can play and others have been getting calls from colleges, but Sam has the ability to play Division I or II basketball."
Rounding out the starting lineup for Lutheran East will be forward Brandon Butler (6-0, senior) and center Larry Overton (6-4 senior). Butler and Overton are averaging 8.0 and 4.0 ppg., respectively.
The up-and-down style that Lutheran East likes to play will be very similar to that of the Wildcats' regional final opponent, Lockland, according to Lee.
"Lutheran East is very comparable to Lockland, with the main difference being that they shoot the ball better from the outside than what Lockland did," explained Lee. "Our kids are going to have to be ready to get out on their shooters while also trying to keep them from penetrating to the basket. Just a very quick and athletic team with very good guards."
Minster showed the ability to play at a fast pace against Lockland in the second half of the regional final, but there will be differences in the Lutheran East strategy on Thursday, according to the Wildcats' scouting report.
"They don't press like Lockland did and they don't crash the boards as hard as they did either, but they shoot the ball much better from the perimeter with alot of screen-and-roll plays at the top of the key," said Minster leading scorer Dane Sommer, who's uncle played on the last Wildcats team to play at state.
Sommer has paced the Minster scoring attack all season long and checks into the state tournament averaging 15.2 ppg. Joining Sommer in the starting lineup for Minster will be a balanced lineup consisting of Zac Boeke (9.3 ppg.), Justin Spillers (8.9 ppg.), Andy Beckman (8.4 ppg.) and Jake Luttmer (7.5 ppg.).