By Janie Southard
jsouthard@dailystandard.com
NEW BREMEN -- Community members are out to change the health climate in the village as they join forces with the Healthy Ohioans initiative promoted by Gov. Bob Taft.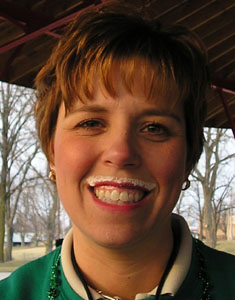 On hand at the Crown Pavilion on Thursday evening to get the ball rolling was state Rep. Derrick Seaver, R-Minster, and New Bremen Mayor Jeff Pape as well as more than 100 residents and about a dozen health booths.
"New Bremen is the first in our area to become involved in Healthy Ohioans. It's a big issue and I'm here to support their effort," Seaver said.
Healthy Ohioans is a statewide program encouraging healthier lifestyles. Health statistics in 2000 placed Ohio in the lower rank of states with 26 percent smokers, 31 percent with no leisure physical activity, 58 percent overweight and 79 percent with diets poor in fruits and vegetables.
Tracy Caudill, a New Bremen resident who works at Wilson Memorial Hospital in Sidney, handed out free bottles of hand sanitizer. "New Bremen is putting emphasis on health and nutrition by holding weekly activities beginning April 4 to get people moving," Caudill said, noting a monthly calendar of events that will be posted throughout town.
Events planned for April and May include the Walking Club, a group walk along the Miami & Erie Canal towpath; Moms on a Roll for folks with children in strollers; and Tai Chi Tuesdays, a class lead by a certified instructor and recommended by the Arthritis Foundation.
Healthy Happy Hour will be held each first Monday of the month and will feature a variety of health issues and/or a new exercise as well as menu ideas.
Caudill said some teens are putting together some youth activities that "will get them up off the couch and away from the Game Boy."
The goal of the local program, which is run by volunteers and operated through the New Bremen Parks Department, is to provide free outdoor activities for all ages.
Phone: (419)586-2371, Fax: (419)586-6271
All content copyright 2005
The Standard Printing Company
P.O. Box 140, Celina, OH 45822