By Gary R. Rasberry
grasberry@dailystandard.com
Three hundred.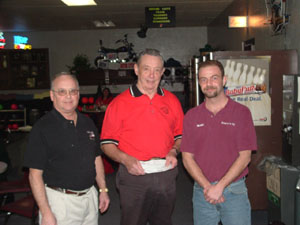 It's the number anyone who regularly picks up a bowling ball and throws it at 10 pins dreams of reaching.
Bud Gray finally got the goal of bowling a 300 -- a perfect game -- last week at Plaza Lanes in Celina while bowling in his regular Monday night league.
Oh, by the way, Gray is 84 years old.
Gray has the honor of being the oldest to have rolled the 300 at Plaza Lanes as well as in the Grand Lake area. There have been older men to bowl a 300 nationally, but Gray isn't too far off the national mark. The American Bowling Congress website lists Berry Thomas of Nashville, Tenn. as the oldest after he rolled a 300 in 2001 at the age of 87 years and 11 months.
Gray, who has been bowling competitively for 45 years, recorded the gem in the first game of the night. He really didn't experience any nervousness as the strikes began to fall.
"I wasn't a bit nervous," said Gray as he got ready for league night on Monday. "As old as I am, you don't get nervous over stuff like that."
As the chatter began to rise about Gray rolling strike after strike, a crowd began to gather at his lane to watch.
"You can tell it," said Gray about the eyes of people that were coming to watch. "The crowd was coming over to see what you're going to do."
When the 12th and final strike was rung up, the well-wishers came over to congratulate him.
"It took about five minutes to get through and ready for the next game," said Gray. "I didn't get nervous until after I began my second game."
He didn't have to worry about a letdown. Gray finished the night with a 785 series, an average over three games of 261.7.
Gray also rolled a 799 series and had he picked up the 800 series, he would have been the oldest man on record to finish with an 800. That mark is currently held by Fran Lasee, who rolled an 834 on Jan. 19, 2004 in Green Bay at the tender age of 83 years and one month.
Those who know him at the alley are happy for him.
"He's just a real nice man," said Mary Cisco of Plaza Lanes. "It's a great honor for him."
Gray, though, didn't really want to talk, ending the conversation to get ready to bowl.
That's nothing out of the ordinary, said Cisco.
"He's always been like that," said Cisco. "It's just another day for him."
Gray will get an award from the ABC for the 300 honor and received a total of $1,000 from Fowler's Television in St. Marys and Bruns, Gant and Toms Insurance in Celina for rolling the 300. The presentation took place on Monday before league bowling got underway.
Gray bowls in two leagues a week at Plaza Lanes and averages a 205.
Phone: (419)586-2371, Fax: (419)586-6271
All content copyright 2005
The Standard Printing Company
P.O. Box 140, Celina, OH 45822