By Gary R. Rasberry
grasberry@dailystandard.com
Yogi Berra wasn't directly talking about Treva Fortkamp when he uttered his classic Yogi-ism "It's deja vu all over again."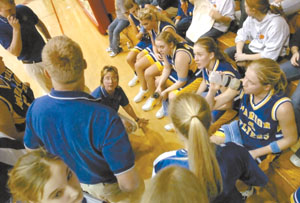 But for the Marion Local coach, it certainly had to feel that way.
Twenty-one years after she saw her perfect season as a player end in the regional finals, Fortkamp suffered the same fate, this time coaching her alma mater.
Fortkamp, whom The Daily Standard honors with an unprecedented third Girls Basketball Dream Team Coach of the Year, took the Flyers to the brink of their third state final four in five seasons and second in three years.
Fortkamp also won the honor in 2001, sharing top billing with longtime Celina coach Jack Clouse, and in 2003 when the Flyers won the first state title for a girls team at Marion Local. Fortkamp, then Treva Griesdorn, played on the last Flyer team that went 20-0 in the regular season back during her junior year of 1983-84. Just like this year's team, the Flyers lost in the regional final by five points. In 1984 it was to St. John's 55-50 at Findlay amd this year, it was 53-48 to Xenia Christian.
Just as it was this year, St. John's lost in the state semis, giving Flyer faithful a "what could have been" feeling if they had won.
As the season began after losing to eventual state champ Minster in the district finals in 2003, Fortkamp had the feeling that good things could come of this team. The Flyers started three juniors -- Maria Moeller, Jenna Barhorst and Katelyn Mescher -- to go with seniors Kelli Stucke and Kelsey Schaefer.
"I thought the team had the ability from the beginning," said Fortkamp, who picked up her 100th career win at Marion this past season and stands at 121-48. "But it would be tough to do it. When we beat Minster (59-53 in double overtime), we thought we had the ability to beat the rest of the teams out.
"I thought it was crucial that we got another scorer," said Fortkamp. "I thought Kelli stepped up very well. Jenna improved greatly. Believe it or not, people don't believe Maria improved, but from last year to this year, she really stepped up her game."
The Flyers won all 24 of its first 24 games, but most of the opponents gave the Flyers very good challenges during the season.
"Everybody gave us a battle every game," said Fortkamp. "I don't think there was any special point during the season. I thought the girls played hard all year and worked hard. They got the recognition they deserve."
As the Flyers won its sectional game and added the district title to move on to the Sweet 16, Fortkamp admittedly became nervous and began to wonder if lightning -- losing the regional final and going 24-1 -- would strike twice in her life.
"I'd be lying if I told you it didn't cross my mind," said Fortkamp. "Is it going to end up the same way I did (in 1984). I told the girls not to have their heads up their rears, because you don't want to be the way I was (back then). I was thinking 'My God, the same thing is going to happen to this team that happened to me.' This team played much better in the regional final than I did."
Fortkamp credits the success of this year's team to focusing on the game at hand and not look down the road.
"We always talked about one game at a time all year," said Fortkamp. "That's how we kept it in focus."
While the season did not end as the team had hoped, Fortkamp has some comfort that three starters -- plus key bench players Holly Fortkamp, Liesa Brand and Andrea Pohlman -- all return next season. Fortkamp also knows that there's plenty of work to be done in the offseason.
"My focus now is on what we have and what we need to work on to improve and replace the great seniors that we had," said Fortkamp. "We still have a lot of work to do and we can't take for granted because we had a great year this year. I have a good nucleus coming back. We have to work on getting better. We can't be satisfied."