By Gary R. Rasberry
grasberry@dailystandard.com
The statistics tell the story as 18.4 points per game, 6.4 assists per game and an average of 5.55 steals per game.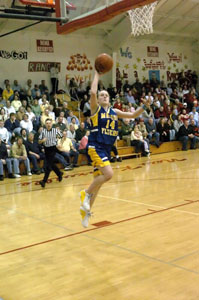 Any one stat by itself is impressive.
Put all three together, you have Maria Moeller. You also have The Daily Standard's Girls Basketball Dream Team Player of the Year.
The 5-8 Marion Local junior, who has impressed not only the area but the state in her first three varsity seasons, earns the honor this season after leading the Flyers to 24 straight wins to start the season and a regional runner-up finish.
Surprisingly, with the Flyers' success the past several years, Moeller is only the second Marion girl to earn the honor since The Daily Standard started its player of the year selection back in 1994. That year, former Flyer and Bowling Green standout Sarah Puthoff was the first recipient of the then-Mercer County player of the year. Moeller had impressive numbers her first two seasons, and has always been one of the best players in the area. But this season, the Flyer guard came up with one of the best all-around seasons for any player around the state.
While Moeller was consistent her first two seasons, this season saw Moeller as the go-to player for the Flyers. Her first two years, players like Erin Puthoff, Margo Moeller and Erin Brand were expected to step up at crunch time.
This year, Moeller elevated her game and became an explosive scorer.
"It was important for her to score," said Marion coach Treva Fortkamp. "She did much better looking to score. Her outside shot improved."
"I really wanted to work on my outside shot," said Moeller. "Coaches know that I like to drive and dish. If I used my outside shot and got more pressure, I could dish off to my teammates."
While sometimes Fortkamp would have wished that Moeller would shoot more, she's happy that her guard is able to get everyone involved.
"I'd rather have an unselfish player," said Fortkamp. "She reacts so well. The kids respond to her so well."
Moeller prefers to pass the ball -- sometimes with a flare that would make Magic Johnson proud -- than shooting.
"Sometimes coach gets mad at me when I pass the ball in the paint because I was close to the basket," said Moeller. "I don't think she really told me to shoot more. I'm the point guard, I'm suppose to get everyone involved (in the offense). ... When you have everyone scoring, there are so many weapons."
In addition to her season's stats, Moeller recorded the area's first known quadruple double -- getting double figures in four statistical areas -- in a game when she went for 25 points, 10 rebounds, 10 assists and 12 steals in a 71-40 romp over Wapakoneta.
"I was surprised," said Moeller about that night. "I found out later what I did. I didn't feel that I had that many steals or that many assists."
Moeller was able to make her offensive jump a little more easily with the defense she has always displayed which often leads to a lot of steals. Moeller's ability to strip the opposing player and dash down the court for easy buckets have taken other teams out of games.
"When I play better defense, I think that helps me play better offense," said Moeller.
"She has a great feel for the game that you cannot explain," said Fortkamp. "When she's calm, the other kids respond to that. That's why she's the point guard, and that's why she's so good at it."
The honors came in droves. Moeller was the player of the year in the MAC, the Northwest District player of the year in Division IV and a first-team All-Ohio player, the first All-Ohio basketball selection for Marion since Julie Hueker in 1998-99.
What's nice about this season and how it ended, a 53-48 defeat in the regional finals to Xenia Christian, is that Moeller returns next season.
So does a number of her fellow starters and teammates.
"That will make us work harder for next year," said Moeller. "We (the seniors to be) don't want to go out that way. We're motivated to work harder every day."
Since she first came onto the state stage by being named the Most Valuable Player of the Division IV Final Four her freshman season at the state tournament, the colleges have been calling. Many schools, including Ohio State, have kept close tabs on her, not only during the winter season, but also during the summer in AAU.
"A lot of that has come during AAU," said Moeller. "I really don't try to think about it too much. Right now, I'm not really worried about college."