By Betty Lawrence
blawrence@dailystandard.com
COLDWATER -- The Easter bunny will be dropping off an extra basket Sunday at the Homan residence on St. Anthony Road.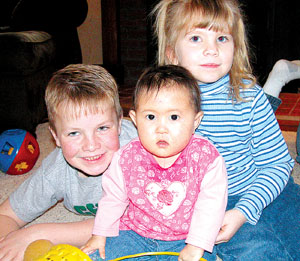 Ted and Allison Homan brought home the newest member of their family, little 14-month-old Audrey, just two weeks ago.
The couple spent more than a year filling out paperwork and traveled more than 10,000 miles to the other side of the world to adopt the little girl from China. Audrey was welcomed to her new home by the couple's biological children, Andrew, 6, and Natalie, 4.
When they looked into international adoption to enlarge their family, the Homans checked out several countries. But they chose China because of the country's one child per family policy.
"China just tugged at our heart. These baby girls are being abandoned not because of poverty, but because they are simply a baby girl born in China. Families are permitted to have only one child, and they are holding out for a boy," Allison Homan says during a recent interview at the family's home. In Chinese culture, a greater value is placed on men, leading many families to abandon infant girls.
Such was the case of Audrey (named Qin Chun Hong at birth), estimated to be 11 days old when she was found abandoned at the gate of an orphanage.
"It's usually the rural people, over 70 percent, who are abandoning their babies," Allison Homan explains. "They choose to abandon their girls so they can get a boy. Fortunately, the babies usually are left in places where they can be found and cared for, such as at orphanages, markets and parks. Usually they are placed at dusk, so they will be found quickly."
It is impossible to know how many babies are abandoned because the Chinese government will not release those figures, she says.
The Homans began working with an international adoption agency, Children's Hope, of St. Louis, Mo., in December 2003.
"There are many steps and forms you have to go through to adopt a child overseas. There had to be a home study, we had to get approved through Immigration and Naturalization Services (INS), we had to have a complete dossier, we were even fingerprinted. Our adoption agency then had to translate it all into Chinese and send everything to the Chinese government," Allison Homan says.
The China Center for Adoption Affairs in Beijing then matches the parents to a child.
In January the Homans learned a little girl soon would enter their lives.
"We were told they had picked one out for us and sent us a picture of her. We were having that awful ice storm in January at the time and our electricity was out at home, so the news couldn't have come at a better time, " the young mother says. "It wasn't until then that we knew we actually had a child and which one was ours. We looked at that picture of her and immediately fell in love. She is adorable."
The first time the Homans saw Audrey was in a hotel lobby in Xian, where they anxiously awaited with eight other families who were adopting from the same orphanage.
"We weren't allowed to go inside the orphanage, so they brought the babies to the hotel lobby," Allison Homan says. "All the adopted babies were young, from 9 months to 2 years of age. It was very moving."
The little girl, weighing only 16 pounds, was small, even by Chinese standards, but healthy and alert.
"You know, I wondered if I would feel different. I mean, having two children biologically and then adopting one, I didn't know if the feeling would be the same, but it is. It feels the same, like she has always been ours, and we were taking her home," Allison Homan says, recalling the tears when they first saw Audrey.
The Homans spent 10 days with their new daughter in China to get to know each other, before flying home on March 10.
"She was shy and quiet at first, but now she acts like any other normal baby and is adjusting easily," Allison Homan says. "She already calls us Mom and Dad, and she knows who her brother and sister are. They play together all the time, and it's like she has always been a part of the Homan gang."
Audrey is slightly developmentally delayed, but the family doctor expects her to rebound in no time, the parents say. They plan to work with Mercer County's Help Me Grow program to get their daughter on the right track.
Some would say Audrey is a lucky little girl, but the Homans feel just the opposite.
"Right now, we feel we're the lucky ones, and if we had to do it all over again, we would," the proud mother says. "We are so blessed with our three children."