By Margie Wuebker
mwuebker@dailystandard.com
Damage estimates from a fire early Saturday morning at the popular Wendelin Tavern, located southwest of St. Henry, have not been set.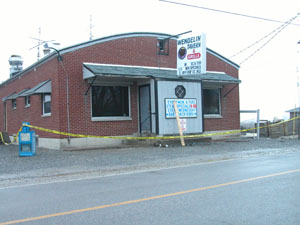 A passing motorist spotted smoke at the brick building at 2981 Fort Recovery-Minster Road around 4:10 a.m. and used a cell phone to call 911.
"We saw a lot of smoke coming from the building," St. Henry Fire Chief Ron Ontrop told The Daily Standard. "The fire apparently was starved for oxygen at that point because flames appeared after we opened two doors."
The tavern, a bar and eating establishment known for its fish, frog leg, chicken and steak dinners, had closed at 2:30 a.m. Saturday. Nothing was amiss at that time, according to owner Rob Uhlenhake.
The blaze apparently started in the bar area but the remainder of the facility, including the kitchen and restrooms, sustained heavy smoke damage, according to Ontrop. Some 45 to 50 firefighters remained at the scene for nearly four hours. Four tankers ferried water from a pond located near the intersection of Lange and Township Line roads.
St. Henry firefighters also returned to the scene shortly after 2 p.m. Saturday when the fire apparently rekindled due to smoldering insulation. They remained on the scene about two hours removing the material and checking to see no other hot spots remained.
An investigator from the Ohio Fire Marshal's Office responded to the scene. Ontrop is awaiting the investigator's report as the exact cause of the fire remains unknown at this point.
Uhlenhake, who purchased the business nearly four years ago, plans to meet with his insurance agent later today. Plans were under way to double the size of the tavern. The footer for the expansion, which involved primarily additional dining space, had been poured last Wednesday.
"We had hoped the expansion would be finished sometime in May," Uhlenhake said this morning. "The tavern will be back in operation as soon as possible, but I will know more after today's meeting."
Ontrop indicated the loss would involve more than just building damage. Restaurant personnel must dump all food at the facility due to heavy smoke. It may take several days to determine the loss in terms of dollars, he said.
Phone: (419)586-2371, Fax: (419)586-6271
All content copyright 2005
The Standard Printing Company
P.O. Box 140, Celina, OH 45822