By Gary R. Rasberry
grasberry@dailystandard.com
Another day, another close win for Celina.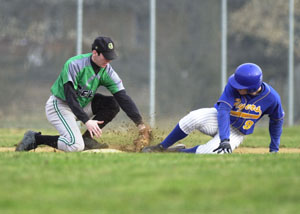 The Bulldogs scored three uneared runs to take the lead in the fourth inning. Then, after giving up the tying run in the top of the seventh, loaded the bases and scored on a dropped ball for a 4-3 win over Marion Local at Eastview Park on Tuesday. The game was the first of the season for the Flyers as Celina goes to 2-0 with a second-straight 4-3 one-run win.
"At this point with our offense, I don't think we'll be blowing anyone away," said Celina skipper Bruce Boley. "We have to scratch and claw for everything we get."
"I thought we did some good things tonight," said Marion coach Chad Wells. "Obviously, we make one mistake and it snowballs on us. We lose 4-3 and give up four unearned runs, that's a little tough."
Marion tied things up off reliever Caleb Byrley in the seventh. Kyle Moeller led off with a walk and moved to second on a sacrifice bunt by Dustin Kremer. After Byrley struck out Chris Wenning, Mitch Thobe singled to the right side, allowing Moeller to score the tying run. In the bottom of the seventh, Kiel Hawk led off with a walk. Garrett Gray laid down a bunt to move the runner up and Eric Braun followed with a hard shot to short that John Alexander could not handle, allowing Braun to score. Wells went to the mound and took the ball from Moeller, who had allowed six hits and three walks in his 61/3 innings of work. Jeff Wolters came off the bench to pitch.
Wells put Scott Luthman, who was 2-for-2 in the game, on base intentionally with a walk and chose to pitch to Doug Vorhees. Vorhees apparently misread the sign and bunted on the second pitch. A surprised Hawk got a late jump from third base and was forced out at the plate for the second out.
Jordan Heuker then stepped up and lofted a low-liner to left centerfield. Thobe dashed in and flew through the air, making the catch in mid-air but as he dropped back down to the grass, the ball popped out, allowing Braun to score from third ending the game.
"That kid in centerfield sure made a nice attempt," said Boley. "I think he had it in his glove and it popped out when it hit the ground. We didn't execute the pitch before when Doug was supposed to have a strike (before bunting), not a pitch, before getting the bunt down.
"That's what team sports are all about -- somebody picking you up. Jordan picked us up with his next at-bat and we were able to pick up a win against a Marion Local squad that's darn nice," added Boley.
Wells felt bad for Moeller, who did not allow an earned run in the game.
"He gave us a great performance tonight. I'm very happy with the way he came out and threw the ball," said Wells. "You'd expect that out of your senior leadership and he provided for us. It's unfortunate we couldn't get him a win."
Celina starter Andy Waesch had a rough start, giving up two runs on a John Alexander single that scored Kemper and Troy Luebke in the top of the first. After that, Waesch settled down, allowing just one more hit in the last five innings of work.
"He got behind in the count early," Boley said of Waesch. "They had a few hits that weren't hit very hard but go for base hits. You have to give them credit for putting the ball into play."
The Celina defense was flawless, not recording an error. Two double plays, the second that was a strike 'em out and throw 'em out play, came in the fifth when Waesch struck out Kemper and Byrley, who started behind the plate, threw out Thobe as he tried to steal third..
"Our first scrimmage, we had eight errors. Last night (against Fort Recovery) we had four," said Boley. "Tonight we had ... none. I hope I can say that a lot after a lot of games this year."
Luthman and Heuker were the only Bulldogs with multi-hit games, each getting a double with their two hits. Thobe was 2-of-4 with two stolen bases.
Celina hits the road on Thursday to face Parkway at Don Black Field and Marion Local travels to New Bremen on Thursday for a non-league game.