For the second night in a row, the Celina Bulldogs defeated an opponent from the Midwest Athletic Conference.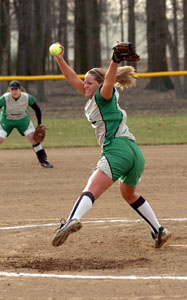 After battling tooth and nail on Monday night before subduing the St. Henry Redskins, 2-1, the Bulldogs got their offense on track and pounded 15 hits to drub the Minster Wildcats, 10-0, in a six-inning contest.
In all, six Celina players had at least one hit and five different Bulldogs had at least one run batted in.
Leadoff batter Jamie Siefker led the Celina attack with four hits in four plate appearances, added three runs and drove in a run. Julia Siefring was 3-for-4 with three runs scored and three RBI. Shay Adams was 2-for-3 with three RBI and a home run.
"It was big for us to have the top of the order getting on base like we did tonight," said Celina coach Brian Stetler. "It's key for us to get people on early in the order and that will allow us to do the things that we like to do. Tonight, we got the runners on at the top of the order and we have the people that can drive them in." "They have great hitters from the top of the order to the bottom," said Minster head coach Melissa Starkey, who lost her first game as coach of the Wildcats. "A great example of their power is that when their eighth-place batter came to the plate, I thought, 'Well, this is someone we can pitch to.' And she promptly rips a base hit."
Celina jumped on Minster starter Erin Stueve for five runs in the opening inning and never looked back.
Siefker led off with a single and stole second and moved to third on a base hit by Allison Hoying. Siefring plated two runs when her groundball was thrown away at first by Minster shortstop Janel Baumer. Adams plated the third run of the inning with a sacrifice fly. Melanie Heyne and Kinsey Schumann each plated a run with base hits.
"It was real big for us to get off to the start that we did," said Stetler. "We talked about getting off to a good start offensively and it was a positive thing to make strides in that direction like we did tonight."
While Celina had its one big inning, Minster had chances to get runs in each of the first three frames and came up empty off Celina starter Schumann.
In the first inning, Laura Morsey led off with a single and went to second on a passed ball, but was left stranded as Schumann retired the side.
In the second, Angie Seger was hit by a pitch to start the inning, went to second on a sacrifice but was left there as Baumer popped to first and Leslie Muhlenkamp struck out.
Finally, in third, Minster loaded the bases with two outs, but Seger struck out to end the threat.
After the third inning, Schumann was in charge as she set down nine of the last 10 batters she faced. For the game, Schumann allowed just two hits, walked three and struck out eight.
"Not scoring when we had the chances was tough," said Starkey. "We are a young team with just two starters and four part-time players back from last year. The key to coming through in the clutch like we needed to tonight is a matter of mentally pushing through and getting the job done."
"We were happy with the way Kinsey pitched tonight," said Stetler. "She was able to get through the first three innings by working hard and she battled and that was a good thing to see."
Phone: (419)586-2371, Fax: (419)586-6271
All content copyright 2005
The Standard Printing Company
P.O. Box 140, Celina, OH 45822