By Ryan Hines
rhines@dailystandard.com
ST. HENRY -- St. Marys starting pitcher Tom Burke hasn't pitched in a high school game ever and except for a few innings during the summer legion season, he hasn't pitched in a game since pony league.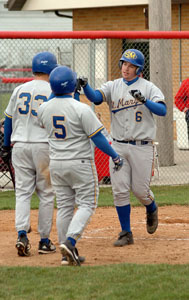 The lack of work on the hill in recent years for Burke didn't seem to bother the senior Roughrider as he led St. Marys to a 13-0 win with a five-inning shutout performance.
The Rough-rirders improve to 3-0 on the season while St. Henry falls to 0-2.
"That is a really good ball club over there that's very well coached," lauded St. Henry skipper John Dorner. "I was very impressed with them and that's an outstanding team. We need a lot of work. We have a lot of good athletes and we'll get better as the year goes on, but we need someone to step up and lead us. Right now we're searching on offense, defense and pitching."
Burke pitched all five innings of the run-ruled contest allowing just three hits while striking out three, drawing praise from Roughrider head coach Fred Hullinger. "Tom was pretty much in control the whole game and that's great to see since it was his first varsity start for us," said Hullinger. "Pitching is the one thing that we really need to work on and he did an excellent job for us. He's a competitor and he showed that in football and basketball."
Burke, who's also the leadoff hitter for St. Marys and scored two runs, got plenty of help from the offense in the blowout win.
Todd Graves, forced to be a designated hitter because of his injured shoulder, hit two home runs, scored two runs and had six RBI. Graves' pair of homers were two-run and three-run shots and were deep bombs and since his home run won the game against Parkway earlier in the week and his first two home runs came in his first two at-bats on Thursday, Graves had three straight at-bats with home runs.
"I don't think that will happen very often but it sure is nice when it does happen," noted Hullinger. "He has a very nice bat and he showed that."
"It's my first time out there, but I felt pretty comfortable, especially when Graves hit the first home run and gave us an early lead," said Burke. "I knew my teammates had my back and I just tried to stay around the plate and make them put the ball into play because I know that everyone behind me can make plays.
"To shut out a program like St. Henry means a lot to myself, but it also means a lot to my teammates," added Burke, who was the full-time centerfielder last year for the Roughriders. "We just need to keep our play at this level and we'll be alright."
Deron Steinke had two hits and scored two runs while Kyle Cheslock scored three runs to go along with a pair of runs scored from Vossler.
"We've been excited all winter about the possibilities of our kids' ability to hit the ball and field the ball and they haven't disappointed me yet," stated Hullinger.
"We've played two games and given up four home runs and you can't do that as a pitching staff," said Dorner. "We've also had six errors in two games and when you're struggling at the plate, like we are, you can't have things like that happen. I have all the confidence in the world that we'll get better and I think that it will happen soon, we just need to keep our heads up until it does happen."
The offensive fireworks began for the Roughriders in the first inning.
Cheslock reached on a fielder's choice and Graves followed with a deep home run to left-centerfield to give St. Marys a 2-0 lead. Steinke followed Graves' homer with a single and moved to second a single by Aaron Pfeffenberger before scoring on back-to-back wild pitches giving the Roughriders a 3-0 advantage after the first inning.
The runs kept coming for St. Marys in the second inning as Mark Dieringer led off with a single and was followed by a walk to Burke before scoring when Cheslock reached on a St. Henry error to give the Roughriders a 4-0 lead. Graves pushed the lead to 7-0 with a three-run blast to centerfield.
"We needed to get off to a good start. We had to come-from-behind against Parkway and against Indian Lake so it was good for us to get out to a lead for a change to see how we play with a lead," said Hullinger.
St. Marys scored five runs in the third inning and added one more run in the fourth inning as the game was cut short.
Brady Schmitz, Alan Hartke and Ryan Ranly each had a single to account for the Redskins' three hits in the game.
St. Marys is back in action today at home against Van Wert while St. Henry will meet Lima Central Catholic on the road.
Phone: (419)586-2371, Fax: (419)586-6271
All content copyright 2005
The Standard Printing Company
P.O. Box 140, Celina, OH 45822