By Ryan Hines
rhines@dailystandard.com
The Celina baseball team nearly blew an eight-run lead on Friday night against New Bremen, but Eric Braun was able to keep the Bulldogs undefeated by shutting the door on a rally by the Cardinals in the seventh inning with a 10-9 win for the Green and White.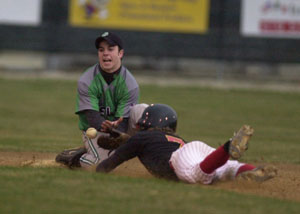 The Bulldogs are now 4-0 against Grand Lake Area competition to this point in the season (wins over Fort Recovery, Marion Local, Parkway and New Bremen) while New Bremen slips to 1-2.
Trailing 10-2 after the fourth inning, New Bremen scored once in the fifth inning and added seven more runs in the top of the sixth inning to clip the Celina lead to just one run at 10-9.
"We really hit the ball well early on and you have to give that team in the other dugout (New Bremen) a lot of credit for the way that they battled back because some teams might have folded in that situation," said Celina head coach Bruce Boley. "I hope that we can do that if we're ever down in a 10-2 situation like that and not give up and make the comeback. They gave a great effort and comeback and that's what high school sports is all about."
The Bulldogs had a chance to add a run to its lead in the bottom of the sixth inning but stranded a runner at third base giving the Cardinals one last chance to tie the game or win it outright. New Bremen's Jason Keller had a one-out single and then moved to third base when Braun, Celina's third pitcher in the contest, struck out Scott McCollum but still managed to reach base on an error by Bulldogs catcher Caleb Byrley who threw the ball into rightfield in an attempt to get the out at first base.
With runners at first and third and just one out, New Bremen had the top of the order coming to the plate and Celina's once eight-run lead looked to be in jeopardy all together.
Luckily for Celina, it had Braun on the mound and there's no other pitcher that Boley would rather have on the hill in that situation other than the senior righthander.
Braun induced a lazy popup in the infield and a slow-rolling groundball for outs to help the Bulldogs escape Eastview Park with a win.
"Eric Braun is one of our better athletes and he's been in those type of situations before and we want to go with that kid in those situations," said Boley.
"This isn't an easy way to lose a game, but we dug ourselves a hole early on in the game," said New Bremen head coach Justin Firks. "Our defense early on was atrocious. Dropping linedrives, letting flyballs drop, not executing bunt defenses. Hopefully that improves with being outside more and more.
"Offensively, we had like 10 hits today so that's a big step up for us," added Firks. "We kept battling in the game and nearly came away with the win but we just couldn't get the big hit when we had first and third with one out in the last inning with the top of our order at the plate."
Braun picked up the save, his second of the season, while starter Scott Luthman picked up the win to go along with his three hits, including a two-run home run.
"Scott left the ball up in the zone a little bit early on and New Bremen jumped all over it but he started to get the ball down in the zone and he mixed in his breaking pitch for strikes and that helped him settle down," said Boley. "He also had a big day at the plate with a big home run in the big inning that we had."
Kiel Hawk also connected on a two-run blast to centerfield while Garrett Gray had two singles.
Celina built its 10-2 lead behind a six-run fourth inning when the Bulldogs sent 10 batters to the plate. Luthman and Hawk hit their two-run homers in the fourth inning while Byrley added a two-run double.
New Bremen's seven-run fifth inning was highlighted by a two-run single from Craig Eiting, who had two singles, and a two-run single by pinch-hitter Dustin Bruggeman.
Phone: (419)586-2371, Fax: (419)586-6271
All content copyright 2005
The Standard Printing Company
P.O. Box 140, Celina, OH 45822