By From staff reports
newsroom@dailystandard.com
Brad Fortkamp fired a complete game allowing seven hits and Sean Kahlig hit a home run as Fort Recovery handed St. Marys its first loss of the season in a 9-3 decision at K.C. Geiger Park in St. Marys. The Indians improve to 3-2 overall as the Roughriders drop to 4-1.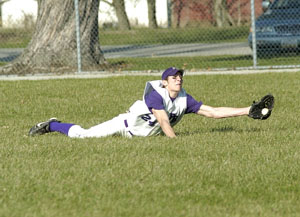 Fortkamp allowed just one walk and struck out five in the complete-game win, his first of the season.
The Indians scored six times in the second inning to push a 1-0 lead up to a seven-run advantage. St. Marys scored its three runs, with one run in each of the last three innings.
Kahlig had a two-run home run and also scored two runs for the Indians while Dusty Guggenbiller was just one homer short of hitting for the cycle, going 3-for-3 with a double, triple and four runs batted in for the Indians. Bobby Rammel added a 2-for-4 game.
Fort Recovery returns to action on Friday at Fort Loramie while St. Marys travels to New Bremen on Thursday.
BOX SCORE
Fort Recovery 160 100 1 -- 9 9 3
St. Marys 000 011 1 -- 3 7 0
WP -- Fortkamp
2B -- FR: Guggenbiller
3B -- FR: Guggenbiller
HR -- Kahlig.
Records:Fort Recovery 3-2, St. Marys 4-1.

Phone: (419)586-2371, Fax: (419)586-6271
All content copyright 2005
The Standard Printing Company
P.O. Box 140, Celina, OH 45822