By Ryan Hines
rhines@dailystandard.com
Winless St. Henry on the road at undefeated Celina, sounds like a Bulldogs victory, right?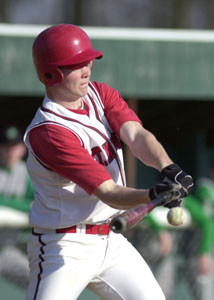 Wrong.
The Redskins picked up their first victory of the season in a tight 3-2 win over the Bulldogs at Eastview Park on Monday afternoon.
So tight, in fact, that Celina had a chance to tie the game in the bottom of the seventh inning, but the Bulldogs failed to execute on a squeeze bunt attempt at tying the game.
St. Henry, which had scored just one run in the first three games of the season, took a 3-2 lead into the bottom of the seventh inning but Celina caused a sigh from the Redskins crowd when nine-hole hitter Nick Gray hit a double into the centerfield gap. The leadoff double was enough to bring Dorner out of the dugout and when he ended his stroll to the mound, he called upon Ryan Hartke off the bench to relieve Brady Schmitz, who pitched a solid game. Celina's Kiel Hawk then laid down a perfect sacrifice bunt moving Gray to third base with his older brother Garrett next up with a chance to tie the score and only one out.
Boley decided to go with a squeeze play to garner the game-tying run, something that Dorner expected out of the long-time Bulldogs mentor.
"I expected a squeeze bunt, but I can't say that I expected it on that pitch or I would have called a pitch out," said St. Henry head coach John Dorner. "Bruce (Boley) must have made the ball when I went out to make the pitching change because there were no signals given, so he must have talked about it ahead of time."
The problem for Celina is that it didn't execute the squeeze.
Hartke delivered an extremely high curveball and Garrett Gray never tried to offer at it, leaving brother Nick hung out to dry in a rundown between third base and home plate, which eventually ended in the second out of the inning. Gray then popped up a pitch on the infield for the final out securing the Bulldogs their first loss of the year.
"We had five errors and we were still in a position to win the game in the seventh inning, but we didn't execute," said Celina head coach Bruce Boley. "We at least have to make an attempt to get the thing down, we can't just stand there with our bat on our shoulder and say that it was just too high, you have to try and foul it off or something. In a squeeze situation you have to get the bat on the ball somehow, someway."
"We were fortunate that it was a curveball that got away and was nowhere near being a strike so the batter couldn't do anything about it and then we were able to execute the rundown for a big out," said Dorner. "That was a great win that came at a great time for us against a very good team. If Celina was able to come back and win this game, that would have been a killer for us so it's a huge win for that reason alone."
As unhappy as Boley was with the lack of execution on the squeeze, he was also disappointed with the Bulldogs' play earlier in the contest when St. Henry grabbed the early lead.
Already ahead 1-0 on an unearned run, St. Henry added another two runs in the third inning. Andrew Huelsman, who had two singles in the game, laced a basehit to rightfield and then moved to second base when Brady Schmitz reached on a Celina error. A Matt Dippold single loaded the bases with no outs.
Alan Hartke delivered what proved to be the game-winning hit when he had a two-run single scoring both Huelsman and Schmitz to give St. Henry a 3-1 advantage.
Joey Roberts brought Celina to within one run in the sixth inning with an RBI off a sacrifice fly scoring Scott Luthman, who reached base via a single.
Schmitz got the win on the hill with six innings of work where he gave up two runs on six hits with four strikeouts. Andy Waesch was the toughluck loser as he threw six solid innings in his first varsity start allowing just five hits while punching out seven Redskin hitters.
"It's tough to tag Andy with a loss because he pitched a whale of a game today, we just didn't execute offensively in several situations," said Boley. "We struck out with runners in scoring position a couple different times and St. Henry was able to take advantage of our defensive miscues early."
Eric Braun and Jordan Heuker each had a single and double for the Bulldogs.
Celina is back in action again on Thursday at Lima Senior while St. Henry returns to the field today hosting Van Wert.
Phone: (419)586-2371, Fax: (419)586-6271
All content copyright 2005
The Standard Printing Company
P.O. Box 140, Celina, OH 45822