By Gary R. Rasberry
grasberry@dailystandard.com
COLDWATER -- The tennis version of the Battle of Grand Lake went south of the lake as Celina hosted St. Marys on Tuesday at the Coldwater Memorial Park courts.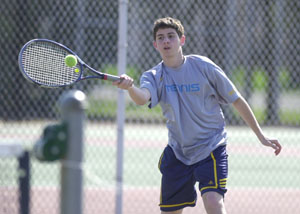 The Roughriders showed why they're a favorite for the Western Buckeye League title with a 4-1 win over the NetDogs to go to 5-0 overall and 2-0 in the WBL.
Celina drops to 0-3 overall and 0-1 in the league.
While St. Marys won three of the first four matches to ensure the win, the coaches and competitors had to wait to go home as Celina's Neil Hoyng and St. Marys Jameel Brenneman battled in third singles for over two hours.
Brenneman lost the first set 4-6 to Hoyng and rallied back in the second to force a tiebreaker. Brenneman won the tiebreak 7-3 to take the second set 7-6. In the third, Hoyng took an early lead, but Brenneman came back to win, 7-5, to wrap up the day. "Neil did well considering it was the third tennis match of his life," said Celina coach Jan Morrison. "He hung in there and I'm real proud of him. He's a nice addition to our team."
Celina was able to get one win on the day as the second doubles team of Alex Ball and Ethan Westgerdes needed three sets to beat Jonathan Burke and Travis Neal 6-3, 1-6 and 6-4 to give Celina a point.
The rest of the slate was all St. Marys.
In first singles, Jeremy Dominik, a state qualifier from last season, had an easy session in beating Brad Krick 6-0 and 6-1.
"He struggled early in the season," said St. Marys coach Brice Brenneman of Dominik. "That was his best tennis of the season."
In second singles, Jonathan Brenneman, brother of Jameel and son of the coach, battled Kyle Everman early before taking the match with scores of 6-4 and 6-2.
The first doubles team of Aaron Dietz and Steven Falasco also had a short day, beating the Celina pair of Matt Stetler and Brent Householder 6-1 and 6-2.
In an exhibition singles match, Dietz beat Ty Drumm in an 8-4 pro-set match.
"That was a little more of a battle than I care to have," said coach Brenneman. "Celina played very well. They were tough. That (third singles) kept us here a long time. (Celina) has been improving since a year ago. They've come a long way."
"I'm proud of the guys," said Morrison. "They've worked hard and it's beginning to pay off. We still got work to do."
St. Marys hosts Defiance on Friday while Celina has a pair of road trips to end the week, heading to Bluffton on Thursday and then to Van Wert on Friday.
Phone: (419)586-2371, Fax: (419)586-6271
All content copyright 2005
The Standard Printing Company
P.O. Box 140, Celina, OH 45822