The Celina Bulldogs continued their early season run of solid play Tuesday with an 11-0 five-inning victory over the Marion Local Flyers at Bill Feth Diamond.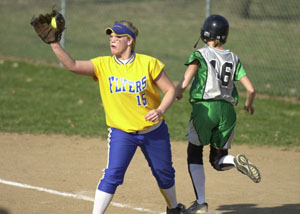 The Bulldogs didn't need much help, as Melanie Heyne pitched a gem, but the Flyers aided the host's cause by committing seven errors that led to seven unearned runs.
One run would have been enough for the Bulldogs, however, as Heyne stymied the Flyers all game long. The senior held the visitors to just one hit while striking out 14 of a possible 15 batters. The Flyers reached base just three times, once by a walk, once on an error, and once on Kim Evers' single.
Interestingly, despite Heyne's impressive performance, she may not have been quite on her game.
"She said she was having a hard time finding her pitches today, but I thought she battled hard," said Celina coach Brian Stetler. "She throws hard and it's just a matter of finding her spots. She's tough to hit when she's on, there's no doubt." The Bulldogs did all the damage they would need in the first inning. Allison Hoying banged a one-out single, and after a walk and an error, the bases were loaded. After a flyout, Heyne stepped to the plate and delivered a big two-out knock with a bases-clearing triple to the fence. Heyne then scored on Kinsey Schumann's RBI single.
Celina struck for three more runs in the second when Julia Siefring plated two with a single and Allison Braun drove home Shay Adams with a triple.
After a scoreless third, the Bulldogs were able to trigger the 10-run mercy rule by batting around in a four-run fourth. The first two runs of the inning scored on errors, and the final two came courtesy of RBI singles by Jamie Siefker and Hoying.
"For some reason, we've been struggling in the first two innings of all of our games," said Marion coach Gary Moeder. "I don't know if it's nerves or what, but we've got three days off now so hopefully we can get it fixed. We knew coming in (Celina) was a real good ball club. I don't know how many seniors he's got out there but they look like they've played together for a long time."
Hoying, Adams, and Braun all registered two hits apiece, and Heyne helped her own cause with three RBI.
"The girls have gone through some adversity but their attitudes are good," said Stetler. "They come ready to play, and we've battled through a couple close games but I think they've done all right so far."
The Flyers, who fall to 1-4 with the loss, will travel to Botkins for a twinbill on Saturday. Celina, now 5-0 on the year, will host Lima Senior on Thursday.
Phone: (419)586-2371, Fax: (419)586-6271
All content copyright 2005
The Standard Printing Company
P.O. Box 140, Celina, OH 45822