By Margie Wuebker
mwuebker@dailystandard.com
A man and woman -- both Mercer County residents -- were stabbed around 1 a.m. today at a residence along Windy Point Road near Montezuma.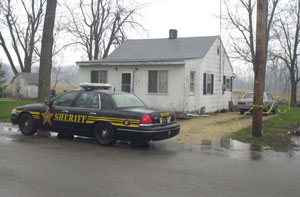 Mercer County Sheriff Jeff Grey confirmed a man and woman had sustained stab wounds but declined to identify the victims. Both were taken by ambulance to Mercer County Community Hospital in Coldwater.
The man, whose age and town were not available, reportedly sustained multiple wounds resulting in heavy blood loss. He was transferred aboard a CareFlight helicopter to an undisclosed Dayton hospital due to the seriousness of his wounds. Grey had no information regarding the woman's injuries, which he described as "non-life threatening."
"They are Mercer County residents and acquaintances," he told The Daily Standard. "I cannot release additional information at this point."
Neighbor Peggy Wyerick, 5370 Windy Point Road, told The Daily Standard she was awakened around 1 a.m. by a woman's screams. She recognized her neighbor woman standing in the yard. Two ambulances and several sheriff's cruisers quickly filled the road, she said. Wyerick indicated all the activity appeared to be taking place inside the residence. The 911 log indicated emergency medical services personnel responding to the scene were advised to wait for law enforcement. A first responder at the scene advised dispatchers the scene had been cleared and medical personnel were in the process of entering the home.
"I heard the victims are my neighbor lady's sister and the sister's boyfriend," Wyerick said. "I've seen cruisers over there several times, before but it never involved anything this serious."
Grey could not say whether deputies had responded to earlier domestic violence calls at the location. However, he added deputies are familiar with both the people apparently involved.
The 911 log indicates authorities were alerted by a Montezuma area resident. He reportedly placed the call from a pay phone at Doc's Inn near the Windy Point Road location.
Grey indicated deputies recovered evidence at the scene but were applying for a search warrant in order to return to the location. Agents from the Bureau of Criminal Investigation and Identification arrived in Celina this morning to assist with the investigation.
Phone: (419)586-2371, Fax: (419)586-6271
All content copyright 2005
The Standard Printing Company
P.O. Box 140, Celina, OH 45822