By Ryan Hines
rhines@dailystandard.com
MARIA STEIN -- When you're a star high school athlete, the college recruiting process can sometimes become a big burden.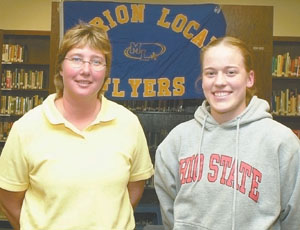 Coaches calling at all hours of the day and night, stacks upon stacks of informational brochures from perspective colleges, at times, it can become too much for your average teenager.
But Marion Local point guard Maria Moeller isn't your average teenager.
Moeller can now put the recruiting process behind her after the junior verbally committed to Ohio State University.
Buckeyes head coach Jim Foster has the Scarlet and Grey as a top 25 program and Moeller couldn't be happier to have her college choice already determined well in advance of having to make a decision. "I'm really happy to be going to Ohio State and playing for coach Foster," said Moeller. "With my college decision already made, I can just go out and play basketball during the summer in AAU and next year in the winter without having to worry about it."
"I think that the big thing is that she can just concentrate on basketball now and not have to be concerned about where she wants to go to school after next year," said Fortkamp. "She doesn't have to perform for any coaches her senior year, she can just go out and play her game with no pressure. I think that it will be a load off of her mind. I told her to make her decision when she was ready but that it might be good for her to make an early decision."
Moeller can officially sign with the Buckeyes in November, but her intentions were pretty clear from the start according to Marion Local head coach Treva Fortkamp.
"She kept her options open, but I think that in the back of her mind that she always wanted to go to Ohio State and play there," said Fortkamp.
"I thought about some other schools like Vanderbilt, but I think that in the back of my mind that I wanted to go to Ohio State from the beginning," said Moeller.
Moeller made her decision mainly because of two factors, location and comfort level.
"I chose Ohio State because I can have people come watch me play because it's close and I really felt comfortable around the players there and around the coaching staff," said Moeller.
"She called coach Foster this past Saturday to let him know of her commitment," said Fortkamp. "I think that it's a great fit for Maria, not only because of the location, but we went to Ohio State on an unofficial visit in August and you could just see the connection between Maria and coach Foster. Vanderbilt, Indiana, Wisconsin and all the MAC schools all offered (scholarships), but in the end, I think that
In addition to location and comfort level, Ohio State is an up-and-coming program after a memorable 2004-05 season.
Ohio State is coming off a season in which it was a third seed in the women's NCAA tournament and advanced to the regional semifinal, but lost to Rutgers. Ohio State, ranked as high as number-two in the nation at one point this year, finished the year with a 30-5 record.
"I think that coach Foster has Ohio State as a top 25 program," said Fortkamp. "Coach Foster is happy to have Maria coming to Ohio State because he was looking for a point guard and finding a true point guard like Maria is very rare."
Moeller should be fairly familiar with her future home floor, having already won a Division IV state title and the state final four Most Valuable Player as a freshman at the Schottenstein Center in 2002.
Moeller is the third Division I girl's basketball player to come out of Marion Local as Bev Obringer played at the University of Cincinnati and the tandem of Sara Puthoff and Lori Albers at Bowling Green.
Phone: (419)586-2371, Fax: (419)586-6271
All content copyright 2005
The Standard Printing Company
P.O. Box 140, Celina, OH 45822