By Gary R. Rasberry
grasberry@dailystandard.com
ST. HENRY -- It took a little bit, but Alan Hartke finally became a Dayton Flyer.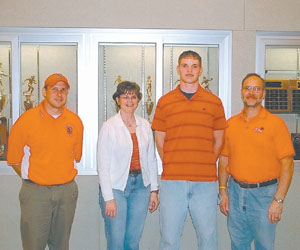 The St. Henry lineman who was a big part of the Redskins' state championship season this year, has received his invitation to join the University of Dayton football team for next season, joining a long list of local players who will head south to play for coach Mike Kelly and the Division I-AA non-scholarship program.
"It's a great feeling," said Hartke. "Knowing that Dayton has a great winning tradition is real important. I went down there and met coach Kelly and the coaching staff. They're nice guys. That's all important to me."
Even if football wasn't an option, Hartke was going to be at Dayton regardless. UD has a well-respected engineering program and Hartke was going to take part.
"I planned to go to UD before I knew I would be playing football," said Hartke. "I want to study electrical engineering down there. Playing football down there makes it even better." Hartke joins St. Henry teammate Kalen Hemmelgarn and New Bremen lineman Marcus Overman among the area players next season as Kelly continues his look to the Grand Lake area for quality talent. Former Coldwater star Kevin Hoyng shared quarterback duties for the Flyers last season and former Versailles star Ben Shappie, Minster lineman Tony Luebke, and St. Marys linebacker Scott Vossler were all on the roster last season.
"I think (Kelly) is real interested in this part of Ohio," Hartke said about all the local talent. "It shows how strong the MAC and WBL are with something like six players down there."
Hartke was a solid player on both offense and defense last season. As a tight end, Hartke made 15 catches for 198 yards and one touchdown last season in the multi-faceted offense. But, it was defense where the 6-7, 220-pound senior shined, making 109 tackles and 16 quarterback pressures to go with five sacks and seven blocked passes. Hartke received first-team All-Midwest Athletic Conference honors on both offense and defense as well as Division V lineman of the year honors in the Northwest District and first team All-Ohio.
Hartke gives the credit to second-year coach Jeff Starkey for the success the 2004 Division V state champions had.
"It all started in the summer with hard workouts," said Hartke. "Coach Starkey led us through a great summer. It was fun."
While Hartke drew raves on defense, the Dayton coaches are hinting Hartke's size at another position, offensive tackle. While Hartke has not played tackle before, he hopes to draw on his experience as a tight end to help the transition.
"I never been a tackle," said Hartke. "I talked to Ryan Winner from Greenville (currently an offensive tackle at UD). He was a tight end in high school. He said the transition is not too hard and he thinks I'll be able to do okay. I don't think it's going to be that big of a change for me."
Phone: (419)586-2371, Fax: (419)586-6271
All content copyright 2005
The Standard Printing Company
P.O. Box 140, Celina, OH 45822