By Gary R. Rasberry
grasberry@dailystandard.com
MINSTER -- The cold and rainy weather didn't keep the track teams from Coldwater, New Bremen and Minster -- and a good number of fans -- away from a triangular meet on Thursday at Memorial Field.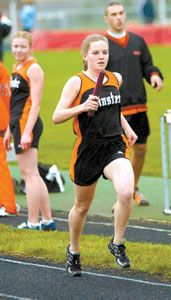 All three teams looked warmed up through the day, but both the Wildcat boys and girls teams looked extra warm as the host school swept the meet.
The Minster girls continued their dominance on the track with a team total 97 points and New Bremen edged out Coldwater, 42-36, for second.
Depth helped the Minster boys as the Wildcats totaled 75 points. Coldwater used solid distance work to finish with 59 while the Cardinals took third with 41.
Minster girls coach Kristen Heitkamp was very happy with her team's effort on Thursday. "It was a real strong day," said Heitkamp. "The girls had some hard days at practice coming into the meet. We were pleased with the way they did today."
The Wildcats' depth, especially in the middle distance and distance events, played a big part. Brigitte Sherman captured both the 800 and 1,600-meter runs and Kara Niekamp and Jenna Fausey had a 1-2 finish in the 3,200.
Heitkamp's girls captured every running event on the day. Kacie Otting won the 100 hurdles and 200 dash, Amy Kremer took the 300 hurdles in addition to the high jump and Alyson Arhns captured the 100 meter while Karen Brackman won the 400 meter.
Despite all the wins, Heitkamp cautions that it's still early and her team is young with 16 freshmen looking for their role.
"We're still trying to figure out where to put people," said Heitkamp. "We have a large freshman class and there's a lot of potential there."
Coldwater gained some inroads in the field events, as state-placer Janelle Jansen overcame the windy conditions to win the pole vault. Brittany Klenke came out of the day a double winner in capturing both the discus and shot put.
"We ran against two good teams," said Coldwater coach Dan Pohlman. "They did a nice job tonight. Ashley Kanney had a nice mile for us."
While the Cardinals won just one event in the girls, Christine Schwartz capturing the long jump, New Bremen used depth to gain two out of the four scoring places in three events.
For the boys, Minster used its depth -- there were several heats of races where it was all Minster runners -- to gain the win.
Derrick Gates won both the shot and discus, with Minster sweeping the top three spots in the discus. Placing in all three four-relay races helped as well.
"We had a lot of kids doing different things," said Wildcat boys coach Larry Topp. "I think we got some pluses from some young kids, running in some adverse weather. Kregg Olding finished third in the two-mile, which is exceptional for a freshman, Michael McVety got a (personal record) in the long jump (winning with a top jump of 20-4). It's something we can build on."
Both Coldwater and New Bremen responded with wins in their signature events. David Wilker picked up 10 big points with wins in both the mile and two-mile. Ben Pax had a strong day with the pole vault and took the 200 meter.
The Cardinals countered with Troy Lammers, who won both the 110 and 300 hurdles.
"This is the kind of meet where you get a feel where you're at," said Pohlman. "We've had a few good meets. This is a test. Bremen is good, Minster is good.
"David really shined for us tonight," said Pohlman. "Ben got a 13-6 in these weather conditions. That was good for us. Our 4x8 team looked well tonight. We got scoring from our shot and discus with Greg Severt getting fourths in both events. Overall, I saw some improved times."
New Bremen and Minster will both head to Shelby County on Saturday for the Anna Invitational. Coldwater returns to action on Tuesday when the Cavaliers host Celina and New Bremen.
Phone: (419)586-2371, Fax: (419)586-6271
All content copyright 2005
The Standard Printing Company
P.O. Box 140, Celina, OH 45822