By Gary R. Rasberry
grasberry@dailystandard.com
COLDWATER -- After booting the ball six times in suffering the first loss of the season on Monday, Celina's baseball team had a long talk on Tuesday about using the field as a classroom and learning from the rough start.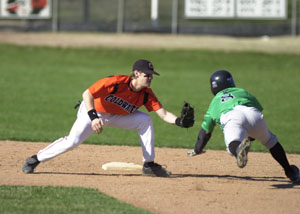 Celina took the lesson to heart, and in the end, schooled Coldwater.
Celina used solid pitching and another day of great defense to beat previously unbeaten Coldwater, 4-2, at Veterans Field in Coldwater. Both teams see their records move to 5-1.
The Bulldogs' rough night defensively on Monday against St. Henry had veteran coach Bruce Boley looking to talk to his team the next practice.
"The effort's always been there, but sometimes the performance isn't," said Boley. "Tonight they put it all together and beat a team that's going win some ballgames. They already have and are going to continue winning. "In all my years of coaching, I didn't mind losing, but let's not give it away. Mentally (Monday), we weren't there. I made the correlation about the field being the classroom. Out here, this is their classroom from 4:30 to 6:30. They have to come out and do their jobs and have some fun along the way," added Boley.
Coldwater coach Brian Harlamert, although disappointed in suffering his first loss of the season, was happy with his team's play.
"For the most part, there were two pretty good teams playing," said Harlamert. "We made two errors that cost us two runs.
"We put the ball into play, but they (Celina) made every play they had to make. ... We had five or so hard-hit shots that they made the plays on," continued Harlamert.
It was Celina capitalizing on errors from Coldwater to get the early lead. Joe Roberts led off the first with a single and moved to second on a bunt by Garrett Gray. An infield single by Eric Braun and an error by Cav starter Chad Geier allowed Roberts to score for the 1-0 lead.
Coldwater tied things up in the third, but an error in the fourth led to some insurance after Jordan Heuker doubled home Braun and Doug Vorhees for the game-winners. With the bases loaded and two out, Roberts grounded a shot to third that Wade Stucke could not handle, allowing Heuker to score an unearned run.
Coldwater had its last best chance to score in the sixth when Troy Seifring singled with one out and Chad Geier was hit by Scott Luthman's pitch. Boley came out and called on Braun to get out of the jam. Braun did allow Siefring to score on a Ryan Gerlach single, but Cody Muhlenkmap grounded to third and Kyle Schoenherr grounded to Vorhees to end the inning.
Luthman was solid in getting the win, allowing just five hits and no walks in 5 1/3 innings. Braun picked up the save, his third of the young year.
"Nice pitching effort from Scotty," said Boley. "Eric came in and closed the door. Both those young men threw well. We also played good defense."
Chad Geier, making his longest appearance of the spring, threw five innings, walked three and struck out four. Only two of the four runs he gave up were earned before giving way to Miller in the sixth.
"We were averaging 10-12 runs a game (to start the year) and we only got two tonight," said Harlamert. "We need to come back and play hard tomorrow."
Heuker, Braun and Roberts each had two hits for Celina. Heuker finished with two doubles and two RBI.
Siefring and Gerlach had a pair of hits each for Coldwater.
Both teams will play two today. Celina returns to Eastview Park for a 2 p.m. twinbill with Sidney and Coldwater heads north to play Bath starting at noon.