By Margie Wuebker
mwuebker@dailystandard.com
Searching resumed by land, water and air this morning for two Celina High School freshmen who embarked on a fishing excursion Friday night at Grand Lake and never returned.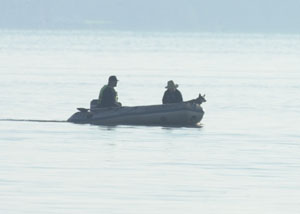 Greg Parker, 15, of Celina, and Jonas Kahlig, 15, of Coldwater, are presumed to have drowned after winds picked up and capsized their jon boat equipped with a small trolling motor.
"Our search turned from a rescue mission to a recovery mission Saturday morning," Grand Lake St. Marys Park Manager Craig Morton told The Daily Standard.
The youths launched the boat, which reportedly belonged to a friend's family, around 5 p.m. from Coldwater Beach. They planned to fish for a while before heading across the lake to meet friends at Windemere Bay for more fishing, this time from the shoreline.
Friends began worrying when the pair failed to show up at the designated meeting place. A friend's father called 911 at 8:39 p.m. to report the boys missing. Some friends went to search the area while others waited at Windemere, lighting a large bonfire in hopes the flames would light the way as darkness fell.
Authorities reportedly found the wooden boat and trolling motor approximately 90 minutes later washed ashore north of a pier for handicapped fishermen at West Bank Park. Searchers located an oar, two life jackets and a pair of shoes several hundred feet away. A second oar was located later near the spillway.
The West Bank area, which remains blocked to public use, has become the command center for search operations. It is also the place where family members and friends have been waiting for news of bodies being recovered.
"We had hope in the beginning the boys made it to shore and were staying with friends," Mary Jo Joseph, Kahlig's aunt, said Sunday afternoon. "There was always a chance they ended up on an island out there. We realized Saturday that those were impossible dreams."
Mercer County Sheriff's deputies and other rescue personnel flocked to the scene and searched small brush-covered islands. They found no sign of the boys, only empty soft drink cans and other litter.
Given a target area measuring nearly 2 1/2 miles, searchers face a formidable challenge.
"We believe the boys hugged the Windy Point wall before heading across the lake in the direction of Safety Island and Windmere," Morton said. "The weather turned cooler and the wind picked up to about 20 miles per hour between 5:30 and 6 Friday night. They were likely in the middle of the lake when that happened."
Morton shook his head, noting a jon boat and a trolling motor were no match for choppy water. The boys reportedly wore life jackets when they left the shore. With water temperatures hovering between 50 and 55 degrees, Morton indicated hypothermia would have set in before the boys could swim to shore.
"There are no witnesses that can pinpoint where Greg and Jonas were at the time the wind picked up," Morton added. "We can only guess where they ran into trouble. There was some minor damage to both the boat and the motor, but we think that happened when they washed up on shore."
Visitors to West Bank Park on Sunday afternoon talked in hushed tones and scanned the water as boats headed back and forth. Airplanes periodically droned overhead flying grid patterns as pilots and spotters looked for anything floating in the water.
"The colder the water, the longer it takes for bodies to surface," Morton said. "Determining when that will happen is not an exact science."
Firefighters from several departments responded to the scene as did law enforcement officers and emergency medical services from throughout the county. Volunteers on horseback scoured the shoreline as did people on foot who wanted to help locate the boys.
In addition to state park employees, others lending assistance included representatives from the Ohio Division of Watercraft and the Ohio Division of Wildlife. Some of the search boats towed state-of-the-art sonar equipment capable of locating bodies or other structures beneath the water. Cadaver dogs rode in other boats but turned up nothing.
An Ohio State Highway Patrol helicopter periodically plied the cloud-strewn sky as did other flights emanating from Lakefield Airport near Montezuma.
P.E. Centers, a state park employee for nearly 20 years, watched more search boats setting out Sunday afternoon.
"This is a great place to live," he said with a sigh. "People really respond when something bad happens. The outpouring of concern and compassion certainly is amazing. Complete strangers pitched in to give those boys every possible chance."
John Wisse, public information officer for the Ohio Division of Watercraft, this morning said the search will continue from dawn to dusk each day until the bodies are found.