By Margie Wuebker
mwuebker@dailystandard.com
Posters and mementos decorate the lockers of Celina High School freshmen Greg Parker and Jonas Kahlig.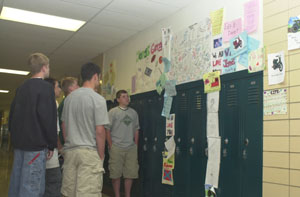 The colorful handiwork is a tribute from classmates and friends who now hope for the best while bracing themselves for the worst -- the likely recovery of bodies from the sometimes peaceful, sometimes choppy Grand Lake.
More than 30 young people gathered at West Bank Park late Monday afternoon continuing a vigil that started Friday night when a battered johnboat and electric trolling motor were found washed up along the nearby rocky shoreline.
Tyler Renfro, one of several boys who accompanied the pair to a Windy Point-area cottage on Friday, briefly recalled how excited they were before setting off around 5 p.m.
"Greg planned to fish all the way across the lake," Renfro says. "And then fish some more on the other side." The pair loaded three life jackets, two oars and the trolling motor into the boat that belonged to a friend's family.
Ben Carr had donned a life jacket, intending to accompany the boys but apparently changed his mind before departure.
"We have asked Ben more than once what caused him to change his mind," his father, Mike Carr, says. "And each time my son replies 'I don't know.' He could be out there right now with Greg and Jonas."
Friends waiting at the appointed fishing spot on the north side of the lake became uneasy and then fearful as dusk set in Friday night and the boys in the boat had not yet arrived.
Some built a large bonfire hoping the light would help the young boaters find their way to shore. Others drove back and forth seven or eight times from the would-be fishing area to the Montezuma cottage.
"We put on all the lights inside the cottage, turned on the dock lights and started a bonfire near the shore," Renfro says, placing a hand over his eyes. "They might have become disoriented in the darkness and surely the light would bring them home."
Teenagers screamed the names of Jonas "Countryfetter" Kahlig and Greg "Hillbilly" Parker repeatedly thinking the wind would carry the sound of their voices. They expected to hear Parker's familiar "Hey boys," but it never came.
"We tried everything," he says before turning to look toward the growing crowd of teenagers and then to the lake. "And then we heard the boat, trolling motor, the oars, several lifejackets and a pair of shoes had been found."
Early Saturday morning teenagers flocked to the park where searchers set out on what everyone hoped would be a rescue mission. They are now calling it a recovery mission, and teens continue to gather at the park.
"We're here because Jonas and Greg would be keeping vigil if we were out there," Zach Sams says Monday afternoon, as a large circle of friends nod in agreement. "Being here with people who knew and loved them is how we are dealing with the wait."
Counselors met with high school freshmen throughout Monday, according to Principal Curt Shellabarger. Those same counselors will be available during the coming days.
"We spent a lot of time in the media center making posters for Jonas and Greg," Dustin Woods says. "We hung them all around their lockers."
Other friends left edible memories -- Zebra Cakes and orange Gatorade for Kahlig; Honey Buns for Parker.
Parker loved baseball, football, basketball and track. He gave up baseball in order to focus on track because it would make him faster on the gridiron, his friends say.
"Greg had natural athletic ability," Cole Schaffner says. "He never grumped about training because he saw it as an opportunity to get better."
"He was a 'Bama Boy," Austin Trisel adds. "He could tell you everything there was to know about the Alabama Crimson Tide."
Paul Renfro served as Parker's baseball coach for several years. He now treasures that time.
"Greg was a coach's dream because he always gave 130 percent and never grumbled. He and Jonas were always happy, always smiling."
Kahlig loved the outdoors, technology, suede hiking boots and the music of Led Zepplin, Van Halen, Def Lepperd and Bachman Turner Overdrive. His drawing of guitarist Jimmy Page still hangs in school while drawings of each and every member of Led Zepplin decorate the inside of his locker.
"Jonas always had a toothpick in his mouth," Brennan Perry recalls. "That boy knows so much about birds and nature. I remember him catching bugs for his Venus Flytrap."
The teens also were among hundreds of people who showed up for what had been billed as an 8 p.m. candlelight vigil on Sunday.
"The wind picked up just as the minister started praying," Sams says, recalling the night before. "The wind blew out our candles. We lighted them again and the same thing happened. That is just the kind of trick Jonas and Greg would pull."
And then his attention is drawn to the lake where boats slowly ply the water. All he and his buddies can do is wait and remember the good times.