By Gary R. Rasberry
grasberry@dailystandard.com
FORT RECOVERY -- A win over a good team when things are a little down is a good thing and beating a team that you have never beaten in school history is even better.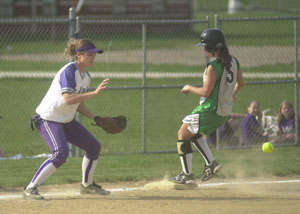 Completely dominating that team is out of this world.
Marie Osterholt, the coach of the Fort Recovery Indians, couldn't help but be a little giddy as pitcher Alyssa Tobe shut down Celina, helping Fort Recovery post a 1-0 win over the previously unbeaten Bulldogs at Fort Recovery Middle School on Monday.
Just days after getting swept by Van Wert in a doubleheader, the Indians came out and did everything they needed to do to keep Celina from getting a runner around to home.
"We needed that," said Osterholt, whose team goes to 3-5 on the season. "It feels great to be able to finally pull off a one-run game. We've lost a lot of one-runners. This feels so good, it's the first win ever against Celina and they are a very good team." Tobe was the big reason for the win. The Tribe senior allowed just four hits on the day and did not walk a batter until the seventh inning. Tobe kept Celina stymied the whole game, resulting in 10 strikeouts on the day.
"She did a fantastic job," said Osterholt. "She just kept the game under control. Our defense played very well, made some great catches and great plays. It was a very nice win."
Bulldogs coach Brian Stetler was impressed with Tobe.
"I thought she threw a good game," said Stetler. "She kept our batters off-guard. We didn't get the bat on the ball like we needed to."
Celina pitcher Kinsey Schumann had a quality start. Schumann held Fort Recovery hitless for the first 42/3 innings. However, Schumann also walked six along the way.
The walks finally got to Schumann in the fifth.
After getting Sandra Sudhoff to strike out, Ciera Rammel walked for the third time in the game and moved to second base on a perfect bunt by Evers.
After Kristen Schwieterman drew a walk, Krystal Rammel stepped to the plate and singled to right, scoring younger sister Ciera from second base on a close play at the plate. Celina thought that Ciera Rammel missed the plate on the initial lunge, but the umpire ruled she touched the plate.
"That's the game. You work for that one run," said Osterholt. "Krystal just needed to relax. We just needed a single from her. She came through."
Schumann allowed just one more hit in the game, finishing with six strikeouts in the hard-luck loss.
"Eventually, walks will come back to haunt you," said Stetler. "Kinsey's a good pitcher. The only problem today was we gave them too many free runners. Generally, that comes back to hurt you and it did tonight."
After getting the lead, Tobe didn't falter. Even after giving up a double to Adams in the sixth, Tobe struck out Allison Braun before getting Melanie Heyne to ground to short to end a possible rally.
In the seventh, Tobe enticed Schumann to ground to second and Kirsten Rose to ground to the circle for two quick outs. Rachael Swain then came up to hit for Alyssa Schaffner and walked but Tobe ended matters by getting Jamie Siefker to look at strike three to end the game.
"She definitely kept it under control," said Osterholt. "Everyone was talking and everybody was ready. Everybody played a great game. They didn't quit, either. We held on and came through."
"Give Fort Recovery credit. They did what they needed to do to get the win," said Stetler. "They got the putouts. They gave us a few hits but did not allow us to cross the plate. We had trouble getting bunts down. We had trouble hitting line drives and grounders. When that happens, you're going to struggle."
Fort Recovery remains at home today for a 5:30 p.m. contest with Hoosier State rival Jay County. Celina, now 7-1, travels north on U.S. 127 to play unbeaten Van Wert in the Western Buckeye League opener.