COLDWATER -- There were few surprises on Tuesday afternoon as three of the area's top track squads, Coldwater, Celina and New Bremen gathered at Cavalier Stadium for a tri-meet.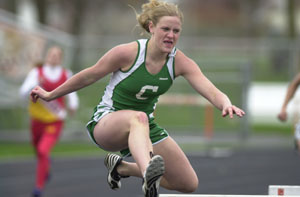 On the boys side, Coldwater won with 76 points, followed by New Bremen in second with 50 and Celina third with 49.
The Celina girls continue their strong start to the season as they totaled 89 points for the tri-meet win while Coldwater was second with 45 and New Bremen third with 41 points.
"We didn't do anything spectacular tonight, but we didn't really do anything that can be considered a bad performance either," said Celina coach Dan Otten. "The veteran girls did what they were expected to do."
On the girls side, Celina sprint star Jenna Schmitmeyer was again the star of the meet as she captured three events, the 100-, 200- and 400-meter dashes. Schmitmeyer's sweep of the sprints keyed a Bulldog domination of the running events as Celina won nine of the 11 running events.
One individual who drew special praise from Otten was Amanda Smith, who won the 1,600 meter in a time of 5:46, which was 10 seconds faster than runner-up Ashley Kanney of Coldwater.
Julie Snyder had a good day in the field events as she won the high jump and became the first Celina long jumper to go over 17 feet in over 20 years. Snyder's jump of 17- 1/4 was the first jump over 17 feet by a Celina female since Kathy Klosterman in 1984. Snyder also captured the high jump and the 100-meter hurdles and finished second in the 300-meter hurdles.
Amber Niekamp of New Bremen was a double winner as she captured the 800 meter and was part of the winning 3,200-meter relay.
Coldwater's Bethany Klenke dominated the throwing events as she won the shot put by five inches over second-place Allison Stammen of Celina. Klenke won the discus throw with a toss of 100-08 which was eight feet better than Jen Brackman of Celina.
Coldwater's winning effort on the boys side was keyed by the performances of senior sprinter Ben Pax and distance runner sophomore David Wilker.
Pax won the 100 and 200 and placed second to Celina's Kelly Mallory in the 400. Pax also dusted the field in his specialty, pole vault, as he went 13 feet which was two and a half feet higher then the second-place finisher.
"Ben Pax had a clean-up-the-meet type of effort tonight," said Coldwater coach Dan Pohlman. "He really did a good job.
"Ben is the type of guy that you can put in several sprint events and you know he's going to do the job," continued Pohlman. "He's our go-to guy in the sprints and he's the type of kid that's willing to help in an any other event that we want to put him in and he knows that he will do a solid job."
Wilker swept the distance events as won the 3,200-meter run with a time of 10:31, seven seconds faster then Brooks Topp of New Bremen. Wilker won the 1,600 in a battle with Jason Dammeyer, Wilker won with a time of 4:43.37 which was just one-tenth of second faster then Dammeyer.
"Our distance guys did a nice job tonight," said Pohlman. "The important thing about our distance guys is that they have improved their times each week and it's good to see that there's still room for improvement."
New Bremen's Troy Lammers continued his domination of the hurdles as he blistered the 110-meter field in a time of 15.39. Lammers was equally dominant in his speciality, the 300 hurdles, winning in a time of 43.12, which 1.4 seconds faster then Shawn Caruso of Celina.
Celina returns to action on Thursday as it hosts a triangular meet with Lima Central Catholic and Van Wert at 4:30. Coldwater is in action at Cavalier Stadium on Thursday hosting Greenville and New Bremen is off until Saturday when they take part in the Minster Memorial meet.
Phone: (419)586-2371, Fax: (419)586-6271
All content copyright 2005
The Standard Printing Company
P.O. Box 140, Celina, OH 45822