By Margie Wuebker
mwuebker@dailystandard.com
Ten boats -- the largest number yet -- will be out on Grand Lake today as the search for two Celina High School freshmen presumed to have drowned enters the sixth day.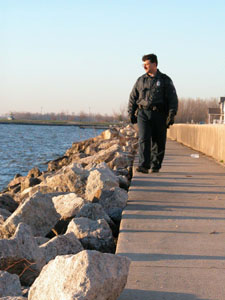 Greg Parker, 15, of Celina, and Jonas Kahlig, 15, of Coldwater, disappeared after taking off late Friday afternoon from Coldwater Beach near Montezuma. The pair never arrived at Windemere Bay Condominiums where they planned to rendezvous with other friends.
"We have stepped up search activities," said John Wisse, public information officer for the Ohio Division of Watercraft. "Hopefully, this will be the day we find the boys."
Gusty winds on Wednesday shortened the search effort considerably from the customary dawn to dusk pattern.
"The wind kicked up 4-foot waves making for unsafe, hazardous and unstable conditions," Wisse added. "We pulled everybody off the water around noon." Searchers returned early this morning searching the West Bank shoreline in the event the waves carried the objects of the search to the rocks. Men in boats, on foot and in an airplane spotted nothing.
Four of the boats were from the Ohio Division of Watercraft, the Ohio Division of Wildlife and Grand Lake St. Marys State Park. The other came from the Mercer County Sheriff's Office.
Five boats equipped with sonar joined them at midday. The owners, who reportedly have been trained in sonar use, offered their services and authorities quickly accepted.
"We continue to receive many offers from people wanting to help," Wisse said. "One call came from a man in Fort Wayne, Ind., who heard about the missing boys. At this time we are using only specifically trained individuals to make sure the search continues in an organized fashion."
Authorities are tentatively scheduled to meet Friday to draft plans for the continuing search. The initial plan includes activities through sunset tomorrow.
"We will be talking about what happens this weekend and beyond," Wisse said. "We all want to find the boys for the sake of their families."
He also discounted the growing number of rumors, including one that speculates the boys may be hiding out somewhere. That possibility was discounted within hours of the discovery of their johnboat, life jackets, oars and two shoes Friday night.
"These are not the type of boys who would have tried something like that," he added. "The boat apparently capsized, and they were not wearing lifejackets. They are presumed to have drowned."
Memorial services for Parker were held this morning at Grace Missionary Church in Celina. A large number of teenagers as well as relatives of the talented athlete were present for the tribute.
Phone: (419)586-2371, Fax: (419)586-6271
All content copyright 2005
The Standard Printing Company
P.O. Box 140, Celina, OH 45822