By Margie Wuebker
mwuebker@dailystandard.com
More than 700 people celebrated the life and times of Greg Parker on Thursday morning at Grace Missionary Church. Tears flowed freely as his face appeared in two video presentations -- one tracing his passage from infancy to teenage years; the other on assistance he provided at the Easter baptism of a younger brother.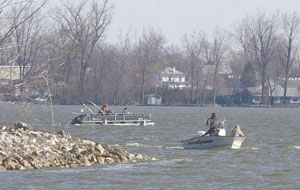 Parker is one of two Celina High School freshmen presumed to have drowned a week ago in Grand Lake. He and 15-year-old Jonas Kahlig, of the Coldwater area, set out from Coldwater Beach intending to fish and then boat across the lake for a scheduled rendezvous with friends at Windemere Bay Condominiums.
Pastor Mike Spencer based his message on the Gospel of Jesus Christ -- something upon which Parker and his family based their hope. He prayed both boys would be found soon and end the long vigil for the families.
Spencer chose Proverbs 3: 5-6, which reads, "Trust in the Lord with all your heart and lean not on your own understanding, but in all your ways acknowledge him and he will make straight your path."
Others taking turns at the pulpit included Gary Millwood, the youth's uncle, and freshmen football coarches John Roth and Jon Clouse. Parker, who played half back and linebacher for the Celina Bulldogs, had dreamed of moving up to varsity next season and one day becoming part of a college team. The song "Just Hope" filled the church as color photos of the smiling youth appeared on a screen in rapid succession. A video taken at Eastertime included testimony from Parker's younger brother Andy, who spoke about the special bond they shared.
Some 250 Celina High School students attended the 75-minute service, according to high school principal Curt Shellabarger. The number does not include middle and elementary school students who are classmates of Parker's younger siblings.
The service had a three-part goal, according to Eric Muhlenkamp, pastor of administration and family ministries at the church the Parkers attend.
"We wanted to remember and celebrate Greg's abundant life, to comfort the family by standing beside them at this time and to see the Lord Jesus Christ in whom Greg and his family placed their trust glorified," Muhlenkamp told The Daily Standard.
Seven boats took off from West Bank State Park as the 10:30 a.m. service began, bound for another day of searching in hopes recovery of the bodies would end the agonizing vigil family members have maintained since learning the boys were missing around 10 p.m. April 8. Additional boats equipped with sonar and surveillance aircraft also joined the effort.
"One of our inspectors indicated the length of the search operation is not unusual given the time of year," said John Wisse, public information officer for the Ohio Division of Watercraft. "In the summer we see water temperatures in the 70s, some 25 degrees warmer than we are seeing now. There are so many variables when it comes to estimating when bodies will surface. The colder the water, the longer it takes."
Authorities had planned to meet later today to assess plans for continued searching. However, the matter was discussed during conference calls placed Thursday.
"The search will continue with five or six boats throughout the weekend before we assess the situation once more," Wisse said. "Hopefully, recovery will come before that but we remain at the mercy of Mother Nature."
Phone: (419)586-2371, Fax: (419)586-6271
All content copyright 2005
The Standard Printing Company
P.O. Box 140, Celina, OH 45822