By Lance Mihm
lmihm@dailystandard.com
Auglaize County board of elections members appeared ready Thursday to abolish the position they recently created to keep soon-to-be-ousted Director Jean Burklo in the elections board office.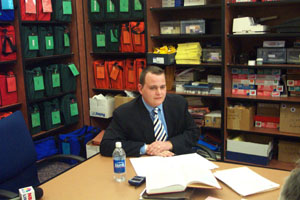 They apparently were ready to buckle under pressure from Secretary of State Ken Blackwell's office when board member Wanda Kogge stopped Blackwell's regional program director Jake Fashner in mid-sentence during a chewing-out session and made a motion to get rid of the position.
The motion was seconded, but board member Diana Hausfeld asked for an executive session to discuss the matter before a vote could be taken. Auglaize County prosecuting attorney Ed Pierce advised the board the matter could not be discussed because it had not been put on the agenda for the special meeting, so Kogge withdrew the motion and the board set another board meeting for today at 1 p.m.
Board members did approve a $3,500 annual raise to $29,500 for new deputy director Josie Schaub, who until a few days ago had been a clerk in the elections office. With the raise, both the position created for Burklo ($37,912) and the deputy position have salaries higher than newly hired Elections Director Linda Householder ($28,000) of St. Marys.
The meeting left in question the positions of board members as Fashner relayed the feelings of Blackwell in addressing the board. "The Secretary of State does not appreciate you playing musical chairs with staff," Fashner said. "In question is your ability to conduct business in the best interest of the residents of Auglaize County."
Fashner also told board members that new allegations have been brought to the secretary of state's attention and another investigation will soon begin.
"Our office has been very frustrated with the decisions they (the board) have been making," Fash-ner said in an interview after the meeting.
When asked if Blackwell had considered removing the board members, he would not comment but said "it is something the secretary will decide on soon."
Board members briefly touched on what they felt were inaccuracies in the report submitted from Blackwell's office after a five-month investigation that began last October.
Hausfeld questioned statements that all ballots from the November 2004 election were incorrect because political party affiliations of judges were illegally printed on absentee ballots.
"Some of those ballots were correct," Hausfeld said.
Fashner said that while some ballots were corrected for that problem, other problems on the ballots caused all of the ballots to be faulty.
When it was asked how faulty ballots were approved by the secretary of state's office when they were reviewed, Fashner responded by saying it is not the secretary of state's office's responsibility to review the ballots.
"We do not review the ballots, we file them," Fashner said. "It is not our job to do your job. We can't hold your hand and make sure you do it right."
A copy of the investigative report released April 5 has been sent to Pierce's office for review. Pierce can review the report and assign a special prosecutor to look into charges concerning the report. Pierce could not be reached for comment this morning.
The elections office will remain on administrative oversight indefinitely. Fashner said the oversight will continue until Blackwell feels the board has reached a proper working order.
Three items that have already been put on the administrative oversight schedule include preparation of written job descriptions for board employees by June 24, written polices on personnel matters including leave and discipline by July 15, and written procedures for operation of the board office. All of the policies must be adopted by Aug. 5.
Board members said little when given the chance to express their opinions on the secretary of state's office after the meeting. In a letter submitted to The Daily Standard, the board said a representative of the secretary of state's office had a personal vendetta against Burklo for some reason. Board members also agreed the decision to use ES&S voting machines instead of Diebold voting machines caused the secretary of state's office to treat them unfairly. Blackwell had endorsed the Diebold machines.
Fashner disputed that claim.
"The secretary of state has encouraged choice in selecting voting machines," Fashner said.
Burklo was ordered dismissed from her position, effective April 15, after a report from an ongoing investigation was released by Blackwell's office April 5. Findings included violations in laws governing petitions, public records, office administration and the voting process.
The board was trying to keep Burklo in the office by creating a new position of election coordinator and hiring her to fill it. While Blackwell's report ordered Burklo dismissed from the director's position, the board argued that it did not say she could not be rehired at a different position.
Phone: (419)586-2371, Fax: (419)586-6271
All content copyright 2005
The Standard Printing Company
P.O. Box 140, Celina, OH 45822