ST. HENRY -- Thursday's track meet at the Wally Post Athletic Complex was quite enjoyable for St. Henry coach Mike Eyink.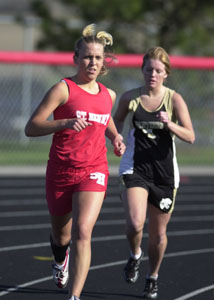 He witnessed both his boys and girls teams run away from the competition by more than doubling the second-place team for both the boys and girls.
The Redskin boys accumulated 161 points, while Parkway picked up 69.5 points, followed by 25 for New Knoxville and 19.5 for Ansonia.
On the girls end, the Redskins racked up 133 total points with Ansonia claiming the runner-up spot with 66 points. New Knoxville placed third with 36 points, while Parkway rounded out the scoring with 20 points.
"It's always fun to win a meet at home," said Eyink. "Coming into tonight's meet, we felt with our depth on both the boys and girls teams, that we could fare well. I was very happy with how everyone performed tonight, and hopefully it can carry over to Saturday's meet. We tried a few different combinations with some of the events, and our depth was really able to help us. A small meet like this in the middle of the week is a good opportunity to give all of the kids the chance to perform and we were able to have it work in our favor tonight." For the second time in three days, St. Henry's Catie Evers enjoyed a stellar meet as she picked up first-place finishes in the 100-, 200-, and 400-meter dashes. Stacy Goettemoeller and Renee Albers were both double-winners for the Redskins, as Goettemoeller placed first in the 800- and 1600-meter runs, and Albers swept both the shot put and discus events.
Other St. Henry winners included Jodi Uhlenhake in the 3200-meter run and Alicia Rose in the 300-meter hurdles. The St. Henry relay squads placed first in both the 800 and 3200 events, while New Knoxville picked up the best time in the 1600-meter relay.
"I'm glad we were able to have success in a wide range of areas tonight," expressed Eyink. "Our sprinters performed well and so did our distance runners, throwers, as well as our relays."
Although Parkway didn't win in the team standings, it provided a couple of standout performances throughout the meet, primarily from Brandon Bowen and Jacob Fox.
Bowen blew the competition away in the 100- and 200-meter dashes with times of 10.93 and 22.84 seconds. He also walked off with a first-place finish in the long jump with his leap of 22-3 while also running a leg in the Panthers' winning 400-meter relay.
Fox swept the hurdling events with his first-place time of 15.87 in the 100 meter and a :44.57 in the 300 hurdles.
"So far we have had three meets and Brandon has won all of his events in each of them," commented Panther head coach Bob Buxton. "It's kind of funny though because a few days ago, he had a hip flexor and his doctor recommended he not run this week. He felt he could go ahead and do it, so obviously I am very pleased with his performance."
He continued, "We wanted to come into tonight's meet and be able to set some PR's and we were able to do that."
The Redskins had one double-winner in senior Steve Dailey who picked up victories in both throwing events with a toss of 44-11.25 in the shot put and 138-9 in the discus. The Redskins also acquired first places in the 800, 1600, and 3200 meter relays.
"Steve was a little disappointed with his performance at Minster on Tuesday night, and tonight he rebounded well," said Eyink. "He was able to pick up some points for us, and our relays did an outstanding job again tonight. At this point in the season, we just want to keep everyone healthy and have as many kids see action as possible, and tonight we were able to accomplish both."
The Redskins and Panthers are both in action Saturday at the Minster Memorial Invitational.