By Ryan Hines
rhines@dailystandard.com
For the second time in less than two weeks, Mercer County rivals Celina and Coldwater met on the baseball diamond.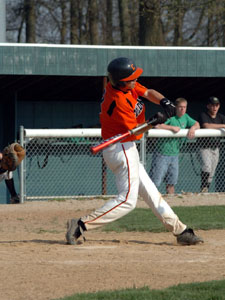 Celina won the first matchup on April 9, but it looks like the two teams will have to share the bragging rights for this spring as Coldwater knocked off the Bulldogs, 11-6 at Eastview Park on Monday afternoon.
Coldwater's offense was the story as the Cavaliers pounded out 13 hits, including four in a row to start the game en route to the win, halting a minor two-game hiccup to their season.
"We didn't have a good approach on Saturday in the box, but today we focused on putting the ball into play and I think that we had that kind of an approach all through the lineup and with the 15 guys that stepped in the box," said Coldwater head coach Brian Harlamert.
"They did a really good job early of hitting line drives and ground balls and in this situation you just have to tip your hat to them and move on," said Celina skipper Bruce Boley. "We had a lot of pitches up in the zone and we have to work lower in the strike zone. They made us pay for the mistake pitches." Celina starter Andy Waesch clearly didn't have his best on the mound for the Bulldogs as he repeatedly left the ball up in the strike zone and the Cavaliers knew exactly what to do with it.
Craig Wellman, Troy Siefring, Chad Geier and Ryan Gerlach opened the game with four straight singles but still no runs scored as Wellman was caught stealing after his base hit.
The Cavaliers did score three times in the first inning as Matt Howell had an RBI fielder's choice to score Siefring, Geier scored on a passed ball and Howell scored on a Celina error.
Coldwater tacked on two more runs in the second inning on an RBI single by Chad Geier and an RBI double by Gerlach to give the Cavaliers a 5-0 advantage.
Waesch lasted just 13 batters in the game and Coldwater roughed up the Celina starter for eight hits and five runs.
"You can't spot a team like that five runs early, because we don't have the type of offense where we're going to have the huge inning," said Boley. "Getting down by so many early cuts out a lot of what we have to do to be successful offensively."
Celina scored twice in the third inning to cut into the deficit, but Coldwater broke the game open with a five-run fifth inning.
Siefring and Gerlach each had two-run singles in the inning while Cody Muhlenkamp added a RBI double.
The top of the order had a huge day for Coldwater as the first four hitters in the lineup went a combined 10-for-14 with seven RBI.
Gerlach had three hits and three RBI, Siefring had three hits, three runs scored and two RBI and Wellman had two hits and three runs scored to lead the Cavaliers' charge.
Scott Luthman had a productive day at the plate for the Bulldogs with three hits while Jordan Heuker added a pair of singles.
Steve Borger moves to 4-0 on the season after five innings of work.
"Steve got his fourth win after throwing sixty-some pitches on Friday and he bounced back and gave us a strong five," said Harlamert. "It was an excellent job on his part because he didn't have his best stuff, but he's a Bulldog out there and kept us in the game."
Celina is back in action today with a Western Buckeye League contest at Kenton while Coldwater hosts Versailles for a Midwest Athletic Conference tilt.
Phone: (419)586-2371, Fax: (419)586-6271
All content copyright 2005
The Standard Printing Company
P.O. Box 140, Celina, OH 45822