By Gary R. Rasberry
grasberry@dailystandard.com
NEW BREMEN -- It was, in the words of New Bremen baseball coach Justin Firks, "A classic pitchers' duel" on Tuesday afternoon at New Bremen.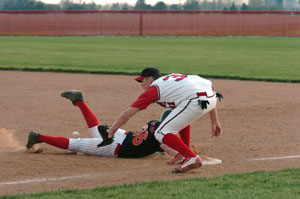 New Bremen's Alex Leugers and St. Henry's Brady Schmitz were involved in a classic confrontation with both pitchers in complete control.
A small run of hits in the bottom of the first gave New Bremen all it needed as Leugers and the Cardinals defense held up for a 1-0 win over the Redskins in Midwest Athletic Conference play.
The Cardinals go to 2-1 in the league and 7-6 overall. The Redskins fall to 8-7 and 0-2 in the conference.
"I don't throw my pitchers a lot early in the season. I want my pitchers to peak at the end of the season," said Firks, a pitcher himself in his high school days at Coldwater. "This was definitely the best ballgame I have seen him throw since I got here. "We talked all season about making the routine plays and the great play will take care of itself," continued Firks. "If you boot one, come back and make the next play."
Schmitz had the hard-luck of pitching a strong game with nothing to show. Schmitz allowed just four hits in the game, only one after the first inning, walked none and struck out seven.
But it was the three hits in the bottom of the first that caused the damage. Andy McMurray led off the inning with a single and stole second. Craig Eiting came up and laid down a bunt but Schmitz quickly got the ball and threw to Andy Puthoff, who tagged McMurray at third base.
Eiting then followed by stealing second and reaching third on a wild pitch before Logan O'Neill blooped a single to score Eiting.
"Brady threw very well today," said St. Henry coach John Dorner. "We made one or two little mistakes in the first inning, nothing glaring. We had a wild pitch that allowed the man to move to third and then the bloop hit. If we didn't have the wild pitch, he wouldn't have been at third and we shut them out."
After that, only two New Bremen batters made it to first base.
St. Henry had one last chance to tie the game in the top of the seventh. With one out recorded, Puthoff grounded hard to short where Todd Keller could not find the handle allowing Puthoff to reach base safely on the error. After Puthoff stole second, Alan Hartke grounded hard to short and Keller threw low to Jason Keller, who scooped the ball up for the out despite protests from both the first and third-base coaches' boxes.
Leugers then got Matt Dippold, who's second-inning double was the only hit in the game for the Redskins, to ground to third to end the game.
"St. Henry is a great ballclub," said Firks. "We've talked all season long about competing with teams like St. Henry, Minster and Coldwater -- the upper echelon teams. It's a big victory for our program."
"There were a lot of little things," said Dorner. "When you're in a tight ball game, the team that makes the one or two key plays is going to win. (New Bremen) did that today. Both pitchers threw incredibly well. We have to find a way to get on base.
"Leugers got every leadoff batter in every inning out. That was a key. We did it every inning except once and that's when they scored. I think we played well today, just not well enough."
New Bremen takes part in the Fort Loramie Invitational this weekend. St. Henry hosts Parkway in a Thursday conference game.
Phone: (419)586-2371, Fax: (419)586-6271
All content copyright 2005
The Standard Printing Company
P.O. Box 140, Celina, OH 45822