By Margie Wuebker
mwuebker@dailystandard.com
Celina High School band members continue to spread the message "Buckle Up for Safety" in toe-tapping fashion.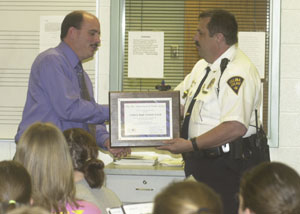 The band played the jingle originally used in safety promotions during the 1970s not once but twice Wednesday morning for an audience comprised of traffic safety representatives from Columbus, local law enforcement officers and the media.
Bob Painter and Jim Everett, representatives of the Governor's Highway Safety Office of the Ohio Department of Public Safety, came to the school bearing a large plaque recognizing band members for their efforts in encouraging children and adults to use seat belts.
"You got something going by playing that song at football and basketball games," Celina Police Chief Dave Slusser said during the plaque presentation to band director Chuck Sellars. "You put safety first in the minds of people in the stands."
Slusser initially proposed using the jingle to encourage seat belt usage last year in the wake of numerous traffic accidents that claimed the lives of 10 teenagers in Mercer and Auglaize counties. Subsequent investigations determined many of the victims were not using seat belts. "I brought the chief's suggestion to band members, and they jumped right in," Sellars said. "One of those 10 young people had been a member of our group."
The marching band initially played the safety jingle at a football game in a display that exceeded Slusser's expectations.
"You guys went the extra mile to learn the words and to make cue cards so people could sing along," the chief added. "All we in law enforcement can do is jog people's minds when it comes to buckling up. You certainly have accomplished that here in Mercer County."
Band efforts did not end with the football season. Pep band members continued the promotion at basketball games with fans leaving the gym to the strains of the infectious beat.
A large "What's holding you back?" banner still decorates a band room wall. It bears the signatures of musicians pledging to use seat belts and encouraging others to do so. Other groups including athletes, cheerleaders and Tri Star Career Compact students also participated in similar signings.
"Peer pressure can be a powerful influence on teenage drivers," Slusser said. "The willingness of the marching and pep bands to assist the Celina Police Department and the Ohio State Highway Patrol in promoting seat belt usage by fellow students can serve as an example to others of how they can help make a difference."
Lt. Dan Lay, commander of the Wapakoneta unit of the Highway Patrol, also lauded the efforts of band members.
"I think they have gone above and beyond in promoting an important message," he added. "We try to spread that message, but these young people have set an example for others to follow."
The partnership between law enforcement and the high school band also drew praise from Painter.
"A lot of good things happen when you work together," he said. "And it certainly appears to be working here. No one knows how many people buckled up following games thanks to this innovative idea."
Phone: (419)586-2371, Fax: (419)586-6271
All content copyright 2005
The Standard Printing Company
P.O. Box 140, Celina, OH 45822