By Shelley Grieshop
sgrieshop@dailystandard.com
Editors note: The full name of the former cocaine user in this story was omitted at her request. A Mercer County resident, she agreed to share her story in hopes of preventing others from taking the same dark path.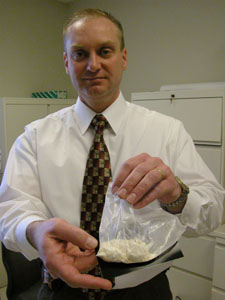 By SHELLEY GRIESHOP
sgrieshop@dailystandard.com
WAPAKONETA -- Beth recalls sitting in a group therapy class listening to women talk about their mothers and the drug habit they inherited from them like a family heirloom.
A recovering addict herself, she remembers scanning the faces in the room when it hit her: the other women surrounding her were the same age as her own children.
"All I could think of is I didn't want my son to be in this circle someday talking about me like that," says Beth, now 39.
She now talks about her addictions -- marijuana and alcohol at age 14, then on to powder and crack cocaine. She snorted, smoked and eventually figured out how to shoot cocaine into her veins, she says.
"I am an addict from hell," she readily admits, fully aware that she is just a "buy away" from the next high if she weakens again. "I'm not in denial at all."
Cocaine is not just a "city drug" like most people would like to believe. It's here in the Grand Lake area and its presence is becoming more frequent to local law enforcement agencies.
"Cocaine use has noticeably increased here over the last year and a half," Auglaize County Sheriff Al Solomon says. "We're seeing more of it at the high school level with teenagers ... That's what's really alarming."
Solomon says the Grand Lake Task Force has tried to focus on the cocaine problem without taking the heat off marijuana users and traffickers. Marijuana still ranks as the most frequently used illegal drug in the local area.
However, cocaine -- particularly crack cocaine -- costs much more to use and addicts often turn into thieves to support their habit. Robbery and theft crimes also have increased throughout the county, Solomon says.
"There's a definite connection," he says.
Steve Stienecker, commander of the drug task force, says nearly every violent crime he's investigated during his law enforcement career was linked to some type of drug -- many times cocaine.
Auglaize County Prosecutor Ed Pierce says he recently presented 15 cases to the grand jury for indictment and seven of those dealt with cocaine possession or trafficking. Five to 10 years ago cases involving cocaine were rare, he adds.
Mercer County law enforcement agencies have seen only a slight increase in cocaine cases and related crimes, Sheriff Jeff Grey says. Recently, Grey and other officers with the task force spent three consecutive days taking drug offenders off the streets but most involved marijuana trafficking.
"I think we're seeing more cocaine because we're seeing more drugs in general," Grey says.
Grey believes strong sentencing by local judges is helping keep cocaine and crack cocaine users and dealers at bay. "It helps us send a message," he says.
In the late 1980s, crack cocaine use soared throughout the United States and soon became Beth's drug of choice.
"It was such an intense feeling, not a casual high like snorting powder (cocaine)," she says. "It only lasted about 15 to 20 minutes, but you really chased that first high."
She told herself each time that this was a "one-time high."
"But it never was enough," she adds.
She had made it through nearly four years of college and was months away from obtaining a comprehensive social studies degree when her cravings to smoke crack overcame her dream to become a teacher.
She flip-flopped jobs often after that, spending more and more time and money doing crack, she says. When she couldn't get up in the morning, she'd get fired and go elsewhere for employment. While cocaine took over her life, she lost everything that mattered -- her son and later her home.
"At that point I didn't see a lot of reasons to live," she says. "Christmas that year I had some dope and thought, 'Now what?' I was truly at the bottom."
One day she got drunk and was arrested for robbing a store. When she failed to show up for her sentence hearing, the judge threw the book at her.
"I went to prison for four years," she says somberly.
A therapy group she attended in prison called "Tapestry" still helps keep her on track these days, she says.
"It doesn't change out there, the drug world is ugly," she says. "But I'm aware of my triggers now, and the Lord is keeping me away from them."
Cocaine's rising popularity again has her somewhat nervous, but she believes she's learned the hard way. Out of prison now for a full year, she enjoys the freedom that comes with making better choices.
"I like not being scared when I see an officer pull up behind me or when I hear keys jingle like the ones on the guards at Marysville," she says. "I don't want to go back. There was no future there."