By Janie Southard
jsouthard@dailystandard.com
ST. MARYS -- The public library was engulfed in a thick green cloud of stink Thursday evening as author Erik Jon Slangerup visited with a big crowd of kids, parents and a few monsters.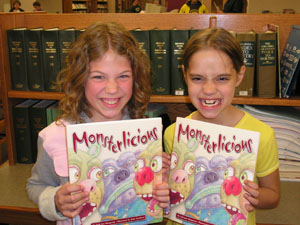 dailystandard.com">
Slangerup, who spent the day visiting St. Marys elementary schools and the library, has written several books that have kids hanging on every word -- words like bat booger cobbler, moldy green teeth and, yes, the very favorite of most of his young readers: underpants stew.
Mention any of these phrases or a couple dozen others to kids of a certain age and it's difficult to restrain their enthusiasm.
Samantha Fortman and her buddy, Nicole Trydle, both 9-year-old Holy Rosary School students, love Slangerup's books "Dirt Boy" and "Monsterlicious" with the later their very favorite.
Why? "Because Bingle Bangdoodle is a really bad cook but has to cook at his father's restaurant, and he confuses cheese and soap, and he stirs the soup with his foot and then his shoe drops in, and then four trolls come in, and he makes stew out of underpants," the two say in almost unison and certainly without breathing. Rhonda Shelby, a St. Marys teacher who will retire this year after 44 years at the front of the classroom, is responsible for Slangerup's several visits to St. Marys during the past few years.
Shelby, a gregarious and outgoing person, first met him while on vacation when she happened to started a casual chat.
"He said he was a writer and I said 'oh, yeah, like I'm a writer, too.' So he told me he'd send me one of his books. He did and we've been friends ever since," she told The Daily Standard as her former students, their children and grandchildren milled around her.
According to Shelby, the author has done missionary work with the Morman church and more recently has a "day job as an ad man in Columbus."
"Oh, yes, Rhonda is a great friend. We e-mail back and forth and she's always pestering me to stay on task. Sometimes it's easy to put the writing aside," said Slangerup of Westerville, who has two new books in the works.
These new books also will feature characters with silly names, like the already famous Bangdoodle or Fister Farnello.
"I've had to put up with Slangerup all these years, so I think it's fair I share the fun," he told his audience.
In response to a question from a young member of the audience, the author said some of his favorite books are those by Dr. Suess.
"Who couldn't love them? They are books that transported me to another world, and I think that's the responsibility of a book. If it can't, then I say, thptpht," he said making the universal sound of a razzberry.
His audience, adults and monsters included, howled with delight.