By Ryan Hines
rhines@dailystandard.com
ST. MARYS -- With St. Marys batting .420 as a team and Coldwater hitting .373, both teams figured to put up some gaudy offensive numbers when the two squared off on Thursday at K.C. Geiger Park.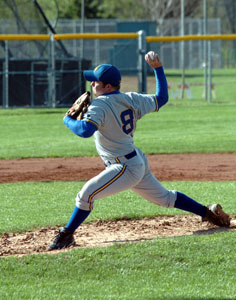 Instead, St. Marys' Jared Ackley and Coldwater's Gaston Pleiman kept the offenses silent while engaging in a classic pitcher's duel.
Ackley and the Roughriders (12-3) came away with the win as St. Marys scored a run in the first inning and it held up for a 1-0 win over the state-ranked Cavaliers (13-4).
"Jared struggled two games ago and he worked with coach (Galen) Cisco to correct some things, but I think that once he heard that he was going to throw today that he got juiced up and that was by far the best game he has thrown in his career. To only give them four hits and only one really hard hit ball, that's an excellent ball game by Jared."
"The low-scoring game surprised me very much so," said Coldwater head coach Brian Harlamert, who has guided the Cavaliers to a third-place ranking in the first state baseball poll. "They threw a good pitcher at us and he battled hard out there and kept coming right at us. They threw their ace against us knowing that they wanted a shot at us. We have to go into each game expecting the other team to give us their best and that's what we got today." Ackley threw a four-hit shutout, but declined to take all the credit in the Roughriders' win.
"All I did was throw the ball over the plate and they hit it, so I have to give all the credit to my defense because they made the plays behind me," said a modest Ackley, who recorded just four strikeouts in the contest. "Our defense made a lot of nice plays and they just played flawless today.
"My last two games I had a couple of tough outings but a game like this really raises my confidence," added Ackley.
"This is the best that Jared has thrown all year," said St. Marys catcher Brett Baker. "He was throwing hard and his curveball was really breaking sharp. He kept them off-balance and just threw a great game."
The Roughriders scored the only run of the game in the first inning when it still looked like a offensive show was a possibility.
With one out recorded, Doug Burke and Todd Graves hit back-to-back singles before Deron Steinke stepped to the plate and added a third straight single to score Burke from second base.
"I was extremely surprised that it was a low-scoring game today because after the first inning, we had three hits and we talked between innings that we just had to keep hitting the ball and the runs were going to come," admitted Hullinger. "There were some great defensive plays made out there with quite a few doubleplays, you just can't ask for a better played high school baseball game. To win 1-0, I would have put my life on the line that this game wasn't going to go like this."
The possibilities of a high-scoring game just kept dwindling after the first inning as Ackley and Pleiman were in complete control the rest of the way.
Pleiman kept the St. Marys offense quiet the rest of the way allowing just two more hits in the final five innings of work to garner the hard-luck loss.
"Gaston threw another great game for us and he's had the hard-luck loss the last two times out," said Harlamert. "
Coldwater had only one baserunner advance to third base the entire game and that came in the fifth inning, when a St. Marys doubleplay ended the best scoring chance for the Cavaliers. Each team had two doubleplays turned by its defense, including one by St. Marys which ended the game.
St. Marys is schedule to be back in action today in Western Buckeye League play at Van Wert while Coldwater is slated to travel to Minster for a Midwest Athletic Conference showdown.

Phone: (419)586-2371, Fax: (419)586-6271
All content copyright 2005
The Standard Printing Company
P.O. Box 140, Celina, OH 45822