By Gary R. Rasberry
grasberry@dailystandard.com
MENDON -- Parkway produced hits up and down the lineup and Tiffany Steinbrunner scattered three hits as the Panthers kept their share of the Midwest Athletic Conference lead intact with a 4-1 win over St. Henry at Parkway Intermediate School in Mendon.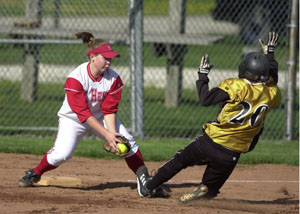 Parkway improves to 9-4 and 2-0 in the MAC on the season as St. Henry falls to 3-13 overall and 0-2 in league play.
Steinbrunner used a mix of strikeouts and great defense from her teammates in holding the Redskins to one run. Steinbrunner walked just one while striking out seven with another six of the outs coming on grounders..
St. Henry starter Karla Buschur pitched well early, trailing 2-1 through four innings, but ran into trouble in the fifth as the Redskins committed two of its six errors in the game to bring an unearned run in. Buschur allowed nine hits and walked two while striking out two before leaving after five innings.
"I'm pleased with Karla's performance," said St. Henry coach Josh Link. "We were heads up on defense, especially with Brenda (Hemmelgarn) throwing a couple of runners out from behind the plate. We battled back and got a run back. We didn't take advantage of some of the situations." Steinbrunner, meanwhile, had a no-hitter -- with just a walk to Lindsey Thobe in the second inning -- until one out in the fourth when Sarah Osterholt singled. One out later, Kylie Elking doubled to the fence in right, scoring Osterholt for the Redskin run. After that, Steinbrunner allowed just a sixth-inning single to Hemmelgarn.
"She's not caught up in getting a lot of strikeouts," said Parkway coach Mark Esselstein. "If we can get three outs in 5-6 pitches, that's great. That's what we did the first couple of innings. When they (St. Henry) got runners on in the later innings, we made a couple of big plays."
Both teams had chances to score runs, but big defensive plays stopped rallies. Both Hemmelgarn and Parkway catcher Jayme Marbaugh were deterrents in the other team's running game. The pair both threw out two runners and Parkway's Brittany Young stole the only base of the game.
"St. Henry made a lot of plays," said Esselstein. "We kind of ran ourselves out of some bigger innings. We try to be aggressive. Sometimes they make the plays and sometimes they don't. St. Henry made a couple of big plays to keep us from breaking it open."
Parkway collected 10 hits in the game with eight different players collecting hits. Erica Yoder was 2-for-4 in the game and Jennifer Murphy was 2-for-3 with two of the four runs batted in for Parkway.
"We spread it out a little," said Esselstein. "We did a lot with two outs in this game."
Even with the loss, Link was happier with his team's play on Thursday than the past several games where numerous errors made for some lopsided scores.
"I told the girls I'm pleased," said Link. "That was a drastic improvement from what we were playing like. I'm happy with that."
Parkway returns to action on Monday at Marion Local in conference play. St. Henry is off until Tuesday when Fort Recovery comes to town for a MAC contest.
Phone: (419)586-2371, Fax: (419)586-6271
All content copyright 2005
The Standard Printing Company
P.O. Box 140, Celina, OH 45822