By Shelley Grieshop
sgrieshop@dailystandard.com
From shorts and 80-plus degree days to mittens and snow four days later, Grand Lake residents were reminded this weekend that Mother Nature still holds the upper hand.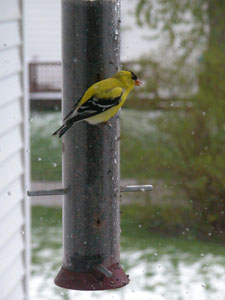 Tulips, phlox and flowering trees were covered with snow Sunday morning as nearly two inches of the white stuff fell throughout the local area, according to the National Weather Service.
Despite the winter blast that caused normal highs of 60 to plummet more than 30 degrees, most plants, flowering trees and shrubs will be OK, says Mike Dues of Dues Nursery of rural Celina.
"A little snow like that is like throwing a protective blanket over the plants," Dues says. "It shouldn't cause any problems."
Dues says the freak precipitation, coming on the heels of warm spring-like weather, might slow down the flowering process a bit but won't keep flowering plants from continuing their blooming process. However, annuals -- the plants placed in gardens each year that do not return after winter -- may have met their match, he adds.
"If people were impatient to get flowers in the ground when the warmer temperatures were here, they may have to start over," Dues says.
This week isn't shaping up for gardening as rain and temperatures in the 50s will discourage those with itchy green thumbs. Temperatures today are expected to reach a breezy high of 55 degrees.
Don Hughes, a meteorologist with the NWS, says the last freeze of the year in the Grand Lake area falls, on average, May 3.
The weekend snow could have set a record for the Mercer/-Auglaize county area as one of the latest and largest snowfalls this time of year, but unfortunately the NWS does not have accurate numbers on file, Hughes adds.
The latest trace of snow closest to our region was recorded May 11, Hughes says, but he did not have the year that occurred.
Oddly enough, the last "measurable" snowfall recorded in April occurred exactly 10 years ago in the Dayton area (the closest place to our area recorded by the NWS). On April 24, 1995, Dayton meteorologists measured 2/10 of an inch of snow on the ground.
In 130 years of record-keeping by the NWS, snow fell in northwest Ohio in April only 35 times, Hughes says. "You see, it's not real common," he adds.
Although spring has hit a slight snag, things could be worse. A rare snowstorm dumped more than a foot of snow in portions of Cleveland and Michigan. In the Cleveland area, about 80,000 customers were left without electricity as heavy snow snapped tree branches and power lines.
-- The Associated Press contributed to this story.