By Gary R. Rasberry
grasberry@dailystandard.com
COLUMBUS -- The weather on Saturday was more suitable for the annual Ohio State-Michigan football game than for the OSU Spring Game.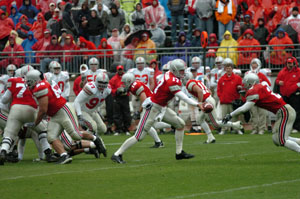 Todd Boeckman looked like he could be playing without difficulty on those autumn Saturday afternoons.
Boeckman quarterbacked three scoring drives for the Gray on the day, which saw the Gray beat the Scarlet, 19-6, at a windy, rainy and sometimes snowy Ohio Stadium.
The St. Henry product finally has the opportunity to play after grayshirting and then redshirting the last two seasons. Although he didn't have out-of-this-world numbers on the day, his two quarters of play -- one for each team -- did provide a look at the quarterback who had been pushing Justin Zwick and Troy Smith last season in practice.
"It definitely felt good out there," said Boeckman at the postgame press conference. "We've been waiting a year. I haven't seen much action the past year or so. It felt good to get out there. The weather was a little cold. We had to play through that. I think it went very well. "All spring it was in the 60s and 70s. (Today) we come out here and it's 35 degrees, rainy and windy. Sure is a big difference."
Boeckman made his spring debut at the start of the second quarter, replacing Smith on a third-and-sixth play from the Gray 21-yard line. Boeckman tried to find Anthony Gonzalez for a deep pass but Shaun Lane defended well.
Boeckman's first full series brought the first score of the game as Boeckman engineered a 10-play drive spanning 28 yards and 3:23 of clock time. Boeckman handed off to Antonio Pittman four plays in the series but called his own number twice on a third-and-one and fourth-and-one to keep the drive going. Jonathan Skeete made the drive complete with a 43-yard field goal with 7:18 left to make it 3-0.
The next drive started much closer to paydirt as the Scarlet punt snap to Tyson Gentry sailed over his head and was downed on the five. Pittman lost a yard on the first play before Boeckman found Gonzalez out of the shotgun for the first touchdown of the game with 5:29 left in the half.
Boeckman's third full drive started on the four of the Scarlet after Curtis Terry's 36-yard fumble recovery. Boeckman had two incomplete passes in the drive as Skeete booted a 22-yard field goal to give the Gray a 13-0 lead going into the half. Boeckman had one last drive with 58 seconds left, but a 12-yard pass to Devon Lyles was negated by a tripping penalty.
Boeckman's Gray numbers were modest -- 2-for-7 for 11 yards and no interceptions and two carries for one yard.
"The defense put us in great field position," said Boeckman. "We had four yards to go on one drive, five on the next. When you're that close, you have to put the ball in the end zone."
After the half, Boeckman came out in a Scarlet jersey and relieved Zwick. Boeckman's first drive went eight plays and 44 yards, but ended when Boeckman's sneak attempt on fourth-and-one was short. Boeckman completed a pass to Rory Nicol on the possession as freshman Erik Haw took five handoffs on the drive.
The second and final drive of the day for Boeckman leading the Scarlet was three plays. Boeckman opened things with a completion to Stan White for four yards, which was then followed by two incomplete passes to bring out the punt squad. Zwick returned in the fourth quarter to play, ending Boeckman's day.
"Everybody was coming in (at halftime) and it was like 'We don't want to go back out,'" said Boeckman. "We had to. We had to get the job done."
Boeckman's complete stat line -- 4-of-12 for 18 yards and no interceptions -- was not flashy, but most of his passes were sharp and to the receiver, only to be defended well or just a bit long. Boeckman did not have any turnovers and was not sacked, with Zwick and Smith each getting downed twice.
"Coming in, we knew we had three quarterbacks to choose from," said Boeckman. "I knew I was going to get two quarters and switch between the Gray and Scarlet. I think it went well. I got a lot of opportunities to do what I can do and show what I can do."
After the game, Ohio State head coach Jim Tressel was equal in the praise for his three quarterbacks.
"I think the way that today counts for that position, and other positions, is that you had more situations to be a part of, more things you can learn from," said Tressel. "I think there are things I can say to all three of them that they need to do better. There were also some plays that were solid. It wasn't one of those things where we said 'Let's see who's best today.' because there's 29 practices we're allowed to have in the fall."
When asked about Boeckman himself, Tressel was very complimentary.
"My overall thoughts about Todd Boeckman, period, are that he's a good quarterback," said Tressel. "He loves playing. He's a positive kid, whether he's in the game playing his role or on the sideline playing his role. He's a Buckeye, through and through. He did some good things today. I'm sure he'll look at some things he can do better. Todd's a good one."
Boeckman's own thoughts on the day were positive, knowing he still had some things to work on before summer practices start.
"I felt a lot more comfortable out there (than last year's Spring Game)," said Boeckman. "You just want to go out there and feel comfortable, get into the groove, go into the offense and let it roll from there.
"I thought I did (play well) for the most part. It's tough with the weather, but you have to play through it. I did good, but I know I have a lot of things to work on. That's what summer is for."
As for his chances in the quarterback race, Boeckman is not feeling much pressure.
"I feel I don't have as much pressure as Troy or Justin because they have been here for two years," said Boeckman. "I'm just coming in here as the underdog, hoping to work my way up the depth chart. All I can do is go out there and do my job. That's all I can ask for."