By Ryan Hines
rhines@dailystandard.com
Seven months may not seem like a long period of time to most people.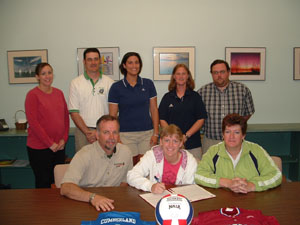 But when you look at Celina senior Jamie Siefker, seven months can seem like a lifetime ago.
On Oct. 4, Siefker was laying in a pool of her own blood on the road and clinging to life.
Fast forward seven months later and Siefker has signed to play both volleyball and softball at the University of the Cumberlands.
For over three years, Siefker was a standout athlete in both volleyball and softball until a tragic automobile accident nearly took all of that away.
THE ACCIDENT
On that dark autumn night, Siefker ran a stop sign and was hit by a semi-truck that threw her out of her vehicle and skidding along the asphalt road for approximately 150 feet.
"From what people tell me, I ran the stop sign and got hit by the semi. My head hit the window and I was thrown from the vehicle and skid on the road for 150 feet," said Siefker as she showed the scars from the road rash after the accident. "They said that I was covered in blood and was laying in a pool of my own blood. I was on the road until people saw the accident and then saw me laying there.
"I was probably in as good a shape as I've ever been in because we had gotten done with volleyball conditioning and we played a few games and then the accident came," continued Sief-ker. "The doctors told me that being athletic probably saved my life because I was in such good shape then."
Siefker was then life-flighted to Dayton's Miami Valley hospital where she was in a coma for eight days. The accident left Siefker with major head trauma and road rash.
"There's no doubt that it was hard, because all you can really do is go into the room and just sit there and hope and pray," said Bill Siefker, Jamie's father. "The doctors were all reassuring and tried to keep everyone positive at all times."
"When I first woke up from the coma I didn't even know that I was in a wreck until my mom (Janet) told me," said Siefker. "I told her that I was leaving the hospital but the doctor had me strapped down to the bed so I couldn't fall out of it. I had no idea where I was when I woke up, so I was pretty out of it until some friends told me what happened. I was shocked once they told me what happened and I just couldn't believe it.
"The accident happened Oct. 4 and I was in a coma for eight days and I finally woke up on the ninth day. I got transferred to Fort Wayne then on Oct. 16 and began the rehab there the second day I was there. I never once got out of the bed in Dayton at all. I was in the hospital for a month and one day and got out on Nov. 5, I'll always remember that date," admitted Siefker, who lost 20 pounds while in the hospital.
After weeks of prayers from family and friends with even strangers wishing the Celina senior well, Siefker faced a difficult rehabilitation process over the next few weeks.
Siefker started the rehab process slow, but due to her athleticism, the quick advancement that she made surprised and thrilled doctors and nurses alike.
"I got a lot of encouragement from friends and I really worked hard on my rehab and about a week and a half before I left the hospital in Fort Wayne, my physical therapist ran out of things for me to do," said Siefker. "Being far from home at the hospital, family and only the closest people in my life came to visit me and that really helped out and motivated me. People seemed to really be shocked and surprised at how fast I began to recover."
"If she had to be fed from a tube, we were going to handle that, if she was going to be in a wheelchair or have to use a cane, we were going to handle that too," said Bill Siefker, who saw the ambulance at the scene of the accident without knowing who was in the accident before receiving a phone call by the highway patrol telling him it was Jamie. "We were going to just go with the cards that were dealt to us, but Jamie started doing more and more pretty quickly. When you are there (at the hospital) you know that there's always people that are worse off than you are and that's the way it is. Once she began to walk and began to jog we knew that she was pretty lucky."

BACK ON THE FIELD
The hospitalized Siefker seems like an afterthought now as she is once again terrorizing teams on the softball diamond.
Siefker, who played outfield the two previous years, is currently the starting shortstop for the Bulldogs this year and is putting up impressive numbers. Siefker is hitting leadoff for the Bulldogs with a .407 batting average (third on the team), has scored a team-best 17 runs, has a team-high 22 hits to go along with nine RBI (fourth on the team).
"I was just hoping that she could make the team and that would be plenty good as far as I was concerned," said Bill Siefker. "I don't think that she's back to where she was before the accident, but she can get there if she wants to with more hard work. The first time that she faced live pitching at a camp during January, she struck out on four pitches and wanted to go home but she got better and better as the day went on."
Those are impressive numbers for your average athlete but Siefker is a former all-Ohio honoree (her sophomore year) and isn't satisfied.
"I want to be good at what I'm doing and that's my main goal. I want t get back to where I was before the accident and then work hard to get even stronger," said Siefker, who was also first team All-Western Buckeye League for volleyball despite playing just two league games. "I'm doing better than I thought I would be doing right after the accident, but I know that I can get better. My goals are centered around the team and we really want to win the WBL this year."

COLLEGE CHOICE
Accident or no accident, Cumberland softball head coach Angie Dean is happy to have Siefker playing for her next year at the NAIA school.
"I watched Jamie play at the sluggerfest and she just made a huge impact," said Dean. "It's not everyday that I go up to a player in the parking lot after a game, but I went up to her in the parking lot and told her what an impression that she made on me. She hustled after everything, she was just everywhere on the field and she had a great arm that really impressed me. I want players that are going to give it their all each and every day, just like any other coach, and Jamie brings that to the table."
While at the Cumberland, Dean will likely use Siefker in several different positions.
"The nice thing about Jamie is that she can play infield and in the outfield. We'll play her anywhere from short to third to any of the outfield positions," said Dean, who has been the head softball coach for eight years.
In volleyball, Siefker was one of the top hitters in the Grand Lake Area prior to the accident but her all-around ability certainly impressed the coaching staff at Cumberland.
"I wanted to play softball first and foremost, but when I went to visit the college, I talked to the volleyball coach and she asked me if I wanted to tryout," said Siefker. "I was just waiting for the softball coaches anyway, so I put some gym clothes on and I thought what the heck. When I was done, coach told me 'Wow' and that she would be able to offer me some money for that too.
"I will probably play more defense or set but I'll play wherever coach wants me to play," added Siefker. "I can still hit but I don't jump as high as I used to so she will probably have me playing defense or setting."
Siefker chose Cumberland over other offers from Bowling Green State University and Albion College. Cumberland is giving Siefker $5,500 in scholarship money for softball, $4,500 for volleyball and another $3,200 for academics.
"When I went to visit Cumberland, I really like the campus because it was all in one location," said Siefker. "Bowling Green and Albion have a spreadout campus and I didn't like that. Cumberland stuck with me the longest and let me know that they really wanted me to go there.
"When I told Cumberland about my accident, it didn't bother them. They told me that I looked fine to them and that they still wanted me," continued Siefker. "The fact that my accident didn't bother them really reassured me that I wanted to go to Cumberland."
"We are so excited to have Jamie coming to Cumberland and I feel that we got a steal in signing her," said Dean. "I can't believe that she was still available."
It's hard to believe that just seven months ago, friends and family were just glad that she was still alive.