By Gary R. Rasberry
grasberry@dailystandard.com
ST. HENRY -- It was a day where everything that could go wrong for St. Henry went wrong and everything that could go right for Fort Recovery did.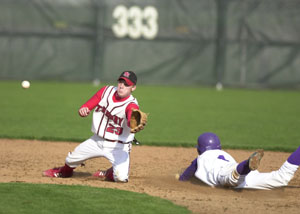 Todd Post pitched a solid game as the Indians humbled the Redskins, 8-2, in a rescheduled Midwest Athletic Conference contest.
The game, originally to be played at Fort Recovery, was moved to the Wally Post Athletic Complex in St. Henry, with the Indians retaining their spot as the home team.
Post was mystifying the Redskin batters, going the distance and allowing just five hits and two walks. Post's curveballs had the Redskins on their heels, taking a number of first-pitch strikes and swinging at some bad pitches.
"He's just a smart pitcher. He and Greg (catcher Greg Faller) work well together," said Tribe chief Aaron Vaughn. "He mixes them up, doesn't throw very hard, but has a nice curve and change-up. He's got the right spots and right counts. He makes it work." With the Redskins taking strikes down the middle and swinging on bad pitches, St. Henry coach John Dorner was not happy.
"No execution. We're swinging at bad pitches and taking good pitches," said Dorner after a postgame talk with his team. "We're playing poorly in all aspects of the game for four games in a row. This is not the time to do it.
"(Post) took advantage of what we were doing. He wasn't overpowering or anything, but he pitched a good ballgame because we swung at bad pitches and took good pitches. There's no team in high school baseball that's going to be a good-hitting team when you're swinging at balls in the dirt, balls a foot outside or taking pitches right down the heart of the plate. Hey, I give him credit. He threw the pitches, he scattered the hits. He did a great job, but we have to do a better job at the plate."
Fort Recovery scored right off the bat in the bottom of the first. Bobby Rammel singled and Post doubled off of Ryan Hartke to make it 1-0.
Things took a turn for the worse for St. Henry in the bottom of the second after the Redskins evened things up in the top of the inning. Things started off well for Hartke after walking Sean Kahlig, striking out Steve Trobridge and Chris Galdeen. But Clint Tobe singled home Kahlig to make it 2-1. Rammel and Post followed up with back-to-back walks to bring up Faller.
Faller swung on strike three, but Hartke's pitch was in the dirt and away from catcher Danny Koesters, allowing Faller to reach base and Tobe to score to make it 3-1 for the Indians.
Dusty Guggenbiller came up and also swung at strike three, but Koesters could not get the handle on the ball and allowed Rammel to score as Guggenbiller reached first safely. Hartke ended the inning by striking out Dusty Tobe, giving Hartke the dubious honor of having struck out five batters in one inning.
"You have to come out against a great team like St. Henry and score early," said Vaughn. "You have to score early and keep on scoring. We put some runs together in a couple of innings. You can't let them continue to chip away. You have to get ahead and stay ahead. We did that today."
Hartke was chased after two batters in the third as Brady Schmitz came on to get a 1-6-3 double play after a pop-up to end the inning. Schmitz allowed another run in the fourth before getting out of the inning and turning things over to Michael Hoying for the final two frames.
Fort Recovery scored three times in the bottom of the sixth to run the score to 8-1. St. Henry got an additional run in the top of the seventh when Michael Gast doubled home Josh Werling.
"You have to give Fort Recovery credit tonight. In every inning but one, they got their lead-off runner on. The one spot in the lineup, that player walked four times. They did what they had to do to win the game.
"That doesn't get it done. We have to refocus. We're at crunchtime right now. We're going to have to refocus or it's going to be a short tournament run for us," added Dorner.
"This is a big win," said Vaughn, whose team earned the second seed and a bye in the Division IV sectional at Minster. "We said this was a must-win to even things up (Fort Recovery is 2-2 in the MAC with the win) and give us a chance for the league. We have to keep grinding it out and doing everything we can."
Dusty Tobe had two hits for the Indians while Gast added two hits for St. Henry.
Fort Recovery (10-8, 2-2 MAC) is at Marion today for a MAC contest. St. Henry (8-9, 0-4 MAC) returns to action on Friday -- a day before the Redskins' sectional opener at Coldwater against Parkway -- to host Coldwater in a conference tilt.