By From staff reports
newsroom@dailystandard.com
Down in St. Henry, Fort Recovery scored twice in the first and added runs in the second and fourth inning to beat the Redskins 4-2.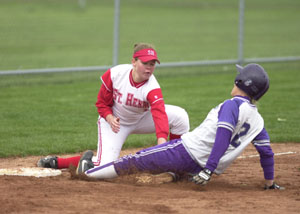 Fort Recovery goes to 7-7 overall and 2-1 in the MAC while St. Henry falls to 3-14 on the season and 0-3 in the league.
Alyssa Tobe got the win for the Indians, striking out five and walking none in the complete-game win to improve to 5-6 on the season. Karla Buschur took the loss for St. Henry.
Ciera Rammel and Renee Evers each had three hits for the Indians. Janel Bruns added a 2-for-3 night for St. Henry.
Fort Recovery hosts Marion in MAC action today while the Redskins head north on state Route 118 to play Coldwater.
BOXSCORE
Fort Recovery 210 100 0 -- 4 9 2
St. Henry 001 010 0 -- 2 7 5
WP -- Tobe; LP -- Buschur.
2B -- FR: Wenning, C. Rammel.
Records: Fort Recovery 7-7 (2-1 MAC), St. Henry 3-14 (0-3 MAC).

BASEBALL
Cavs rock Rangers
A poor pitching start from New Knoxville's Kale Wierwille helped Coldwater post a 15-1 five-inning win at Veterans' Field in Coldwater in a rescheduled game from Tuesday.
The Cavaliers had just one hit in the first inning, but scored seven times as Wierwille walked six batters before getting pulled in the inning. Ranger pitchers walked nine Cavaliers total in the game.
The Cavaliers improve to 15-4 overall and 3-0 in the league as the Rangers go to 3-12 on the season and 0-4 in the MAC.
Gaston Pleiman allowed one hit over the first three innings to go to 4-2 on the season.
Brady Geier paced the Coldwater 11-hit attack with a 3-for-3 day with three runs batted in. Matt Howell added two hits while Steve Borger and Chad Geier each added doubles.
Coldwater is off until Friday when the Cavs travel to St. Henry to face the Redskins. New Knoxville hosts Minster on Friday.

BOXSCORE
New Knoxville 000 10 -- 1 2 2
Coldwater 731 4x -- 15 11 0
WP -- Pleiman; LP -- Wierwille.
2B -- CW: Borger, C. Geier.
Records: New Knoxville 3-12 (0-4 MAC), Coldwater 15-4 (3-0 MAC).
Phone: (419)586-2371, Fax: (419)586-6271
All content copyright 2005
The Standard Printing Company
P.O. Box 140, Celina, OH 45822