By Margie Wuebker
mwuebker@dailystandard.com
WENDELIN -- Rob Uhlenhake's dream is rising from the ashes in the wake of a Feb. 26 fire that reduced Wendelin Tavern & Grille to a brick shell.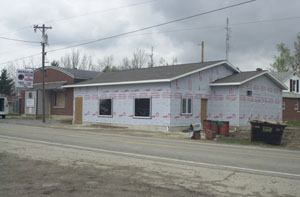 "Look out world, we're coming back bigger and better than ever," the 29-year-old proprietor says pausing from driving nails into fragrant wood. "I put up signs to that effect just in case customers from out of the area wondered about my intentions."
Uhlenhake, also a volunteer firefighter, remembers the night of the fire all too clearly. He awakened to the sound of his St. Henry Fire Department pager and a 911 dispatcher calling out an all-too-familiar address -- 2981 Fort Recovery-Minster Road.
"I jumped out of bed and headed for the door," he says. "The dispatcher did not have to repeat the address. I realized in an instant we were being paged to the tavern."
A passing motorist spotted smoke coming from the business around 4:10 a.m. and used a cell phone to call 911. Uhlenhake beat fellow firefighters to the scene but forgot the keys in his haste. Sirens shattered the early morning stillness as he ran next door to employee Dusty Ungericht's house for a set. Four dozen firefighters quickly rallied to their comrade's aid.
"We saw a lot of smoke," fire Chief Ron Ontrop says. "The fire apparently was starved for oxygen at that point because flames appeared as soon as we opened the doors."
Uhlenhake waited outside as the immediate area, including St. Wendelin Catholic Church property across the street, became a parking lot of sorts for fire trucks and other apparatus. Four tankers ferried water from a nearby pond in a continuous relay.
"My place was in good hands so I stayed out of the way," Uhlenhake says. "I never felt so helpless in all my life. Those were several hours of pure hell."
The blaze, which apparently started in the bar area, reduced everything to a charred or melted mess. What escaped the actual flames fell victim to heat and smoke.
The television set, which patrons depended on for sports and racing action, resembled a shapeless blob. Padded seats turned molten and dripped to the floor. Shot glasses customers brought as souvenirs of faraway trips hardened into a shiny puddle.
An investigation determined the cause of the blaze to be a discarded cigarette that apparently smoldered unnoticed before the 2:30 a.m. closing time.
"I tell folks a great blue heron carried in a cigarette when no one was looking," Uhlenhake says. "Accidents happen."
On a more serious note, he admits luck was with him. Fifty-year-old sheet rock on the ceiling prevented flames from reaching the attic rafters. Firefighters arrived in the nick of time. Five or 10 minutes later and the front windows would have broken giving the fire immediate draft. Fine cracks were forming in the panes when crews arrived.
Insurance estimates peg the loss at more than $100,000. Workers gutted the interior and all food supplies had to be discarded due to health regulations.
"We had poured the footer for a 40- by 40-foot addition two days before the fire," he says. "Luckily, construction had not commenced."
Things are progressing well with renovation of the original building and construction of the addition, Uhlenhake says. Barring any unforeseen problems, the business should reopen within a month.
People coming to check on construction progress have shared a wealth of historical information during their visits.
Previous owners Henry and Odelia Heuing once operated a general store on the same spot. The Heuings also operated a huckster wagon taking needed supplies to customers throughout the countryside. The frame building burned to the ground in 1947, and the Heuings rebuilt, choosing sturdy brick for the exterior.
It was a one-stop establishment where people could purchase food and fabric on one side, cold brew or more potent libations on the other side and toys and boots in the basement. The two-car garage, razed to make way for the new addition, once housed gasoline and oil.
"You name it, my grandparents had it," says former employee Alberta "Bert" Behr of Fort Loramie. "You could buy everything from buttons to groceries to shovels and wet your whistle all in the same stop."
Charlie Bornhorst assumed ownership in the early 1970s, turning the building into a tavern. Jim and Pat Rosenbeck operated the business for 15 years before selling it to Uhlenhake four years ago.
Specialties like steaks, baby back ribs, fish, frog legs and pizza have drawn crowds in recent years. Future plans call for the addition of a pizza and spaghetti buffet and an expanded weekday menu.
"Since joining the fire department 10 years ago, I have grown accustomed to dousing flames, cleaning up and then heading back to the firehouse," Uhlenhake says. "Having to deal with the aftermath first hand is a totally new experience."