By Gary R. Rasberry
grasberry@dailystandard.com
COLDWATER -- After Celina coach Jan Morrison completed her interview, Brad Krick thanked her for not telling the scores of the other four matches during Friday's WBL series with Defiance.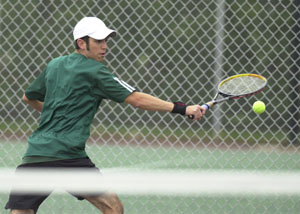 The pressure of a three-set match with Diego Lopez was stressful enough, but the pressure would have added up if he knew that his match was the one tottering between victory or defeat for the NetDogs.
Krick handled the pressure, coming back from being down match point in the second set to win then dominating the third set for a 4-6, 7-5, 6-2 win over Lopez to give Celina the 3-2 series.
Celina improves to 2-4 in the WBL and 4-7 overall. Defiance wraps up the WBL portion of the season at 3-6 and fall to 5-9 overall.
Krick had to overcome a sluggish first set to Lopez by coming back from losing the second set -- and the match -- to coming back and taking the set 7-5. In the final set, Lopez took the 2-1 lead early, but Krick turned up the pressure, taking the lead and getting the break up 5-2 with Lopez serving. Lopez was down 15-30 when he was unable to get the ball in the serve zone twice in a row, resulting in a double fault and giving Krick match point. The next serve was wide. Lopez's next try was long, giving Krick another point via double fault and handing Celina the series.
"Brad really had to dig in," said Morrison. "He showed good composure and confidence to come back on him. He struggled in that second set and came back. That was the turning point when he knew he could win the second set.
"We would have loved (Krick) to hit match point, but that was a nice victory that showed good maturity to come back."
Celina was also paced by the doubles teams. Kyle Everman and Matt Stetler took first doubles in 6-2, 4-6 and 6-1 sets over Todd Oberlin and Kurt Doyle while the second doubles team of Ethan Westgerdes and Alex Ball had a relatively short match, beating Chris Vogelsong and Alok Karnik 6-2 and 6-1.
"Everman and Stetler are showing nice confidence out there," said Morrison. "They've gained so much from over a year ago with court composure and knowing they can do it and believing in themselves. (Westgerdes and Ball) didn't have a tough match tonight, but they're hanging in there."
In the other two singles matches, Brent Householder lost in second singles 0-6 and 2-6 to Kevin Wajert and Neil Hoyng lost in third singles to Matt Morton 2-6 and 3-6.
Celina has three more WBL series next week before going to the league tournament next Thursday.
Phone: (419)586-2371, Fax: (419)586-6271
All content copyright 2005
The Standard Printing Company
P.O. Box 140, Celina, OH 45822