By Ryan Hines
rhines@dailystandard.com
ST. HENRY -- A solid start by Coldwater's Steve Borger and a poor inning by St. Henry's defense led to the Cavaliers posting a 12-0 five-inning victory over the Redskins in Midwest Athletic Conference action on Friday night at the Wally Post Athletic Complex.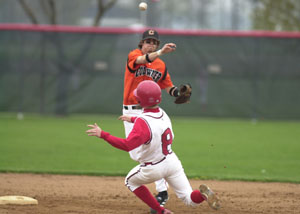 Coldwater (16-4, 4-0 MAC) led just 1-0 until the third inning when St. Henry's defense gave the Cavaliers more than enough runs to coast to the victory.
Having already scored two more runs on a RBI double by Chad Geier and a RBI groundout by Ryan Gerlach to give Coldwater a 3-0 advantage, the Cavaliers blew the game open with another eight unearned runs with two outs.
A St. Henry error, one of five on the day, kept the third inning alive and Coldwater responded by sending 15 batters to the plate in the inning resulting in the 10 runs scored total in the frame.
"Our defense let us down tonight and we're struggling to find some runs on offense," said St. Henry head coach John Dorner. "You have to be able to play defense. We gave up only two unearned run tonight and that was because of our defense having trouble getting outs, especially in the third inning. We didn't rise to the occasion and we have to have players step up in games like this and play good defense when we're struggling at the plate like we are. "Coldwater is as good as any baseball team in this part of the state," continued Dorner. "In order to beat a team like that you have to play outstanding defense and play all facets of the game well."
"They had some struggles fielding the ball, but I think that our team speed had a lot to do with that," said Coldwater head coach Brian Harlamert. "They know that we have speed running up the line and I think that they rushed a few balls that turned into errors.
"Good teams have to take advantage of situations where teams give them extra outs in an inning and we were able to do that in the third inning, " added Harlamert."
Cody Muhlenkamp had a two-run double while Gerlach, Matt Howell and Kyle Schoenherr added run-scoring singles to highlight the frame for the Cavaliers.
Borger shutdown the St. Henry offense for all four innings that he pitched allowing just a meaningless infield single in the third inning which kept him away from a no-hit bid. Borger struck out three and didn't walk a batter in his four shutout innings while Chad Geier finished off the fifth inning with a pair of strikeouts.
"Steve pitched well for us today, he kept the ball down and let our defense do the job behind him," said Harlamert.
Coldwater had just seven hits in the game with Howell the lone player with two hits.
Coldwater is back in action again on Tuesday against Marion Local while St. Henry returns to action today in Division III tournament action at Veterans Field in Coldwater against Parkway.
Phone: (419)586-2371, Fax: (419)586-6271
All content copyright 2005
The Standard Printing Company
P.O. Box 140, Celina, OH 45822