By Timothy Cox
tcox@dailystandard.com
Celina weight lifter Mike Wolfe found himself in the unusual role of a disappointed champion during the weekend.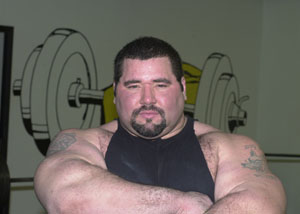 Wolfe, 30, took home top prize from the American Powerlifting Federation Cash or Crush Championships in Middletown on Saturday, which qualifies him to compete in the World Gym American Powerlifters Federation in Atlanta in September. But he was disappointed that he did not even get a chance to try the 800- and 850-pound lifts.
Wolfe's winning lift of 750 pounds set a state record and a record for the Middletown gym.
"I'm disappointed, but happy," said Wolfe, who now officially stands as one of the strongest men in the world. He is ranked 14th in the world in his weight class and 30th in the world overall.
Wolfe opened the competition by attempting to bench press 700 pounds. He scratched on his first two attempts, once illegally lifting his butt off the bench and once for banging the weights off the rack. That left him in a position of being forced to nail his third lift or face defeat and miss the spot in the world event this fall. Lifters in the competition get only three total lifts. Wolfe had planned to open at 750 and lift as much as 850 pounds. The specialized "weightlifting shirt" powerlifters wear was too restrictive on Wolfe's 400-pound frame, he said. The equipment is safety gear to keep lifters from being crushed under the immense weight.
"I was fighting the shirt all day long," Wolfe said.
Wolfe wanted to try to reach the 800-pound milestone, but his coach, powerlifting guru Louis Simmons, advised against it. Wolfe went with 750 pounds instead.
Wolfe's heave still beat the old state record by 150 pounds.
He plans to compete at least once more before the world event to try to get an official lift of 800 pounds before then. If he misses the magical 800-pound plateau, he will compete in yet another event in June.
Only about a dozen men have bench-pressed more than 800 pounds. Gene Rychlak of Pennsylvania is the current world record holder at 1,005 pounds.
Phone: (419)586-2371, Fax: (419)586-6271
All content copyright 2005
The Standard Printing Company
P.O. Box 140, Celina, OH 45822