NEW BREMEN -- As the track and field season begins to slowly unravel, many local teams converged on Saturday afternoon at New Bremen High School for the annual Cardinal Invitational.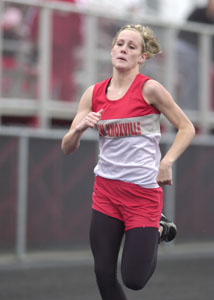 As the day's events unfolded, Gary Jones' New Bremen Cardinals finished atop the heap on the boys' side with 115 points, while the Wapakoneta Lady Redskins distanced themselves from Marion Local to take the girls title.
"We had a few bigger schools here today like Wapakoneta and St. Marys, so for us to be able to compete with them is very satisfying," remarked Jones. "We had a lot of contributors today and I'm very happy with where we are right now."
In what has developed into a familiar trend this season, Troy Lammers led the Cardinal boys with first-place finishes in both the 110 and 300-meter hurdles. The University of Cincinnati-bound senior recorded a 14.86 in the 110- and 39.86 in the 300, edging Wapakoneta's Brandon Owsley by five-tenths of a second.
Junior Chris Grant nabbed the top spot in the long jump for the Cardinals with his jump of 20-11, while Jeff Thobe won the shot put with a throw of 49-53/4. Teammate Marcus Overman finished slightly behind Thobe with his heave of 48-03/4. "Our field event guys did a super job today," said Jones. "The throwers took first and second in the shot put and third and fourth in the discus, while both achieving their personal bests. Our jumping events helped us out as well, and our distance runners were able to get us some points too with Brooks Topp catching second in the 3200-meter run. Troy Lammers also did his thing again today, but I feel overall it was a real team effort."
For Marion Local, it was the distance events that aided in earning the Flyers' third-place finish with 88 points, nearly 13 more points than the Delphos St. John's Blue Jays.
In the 800-meter run, Tyler Speelman and Dale Bruns placed one and two with times of 2:01.26 and 2:05.17, respectively. Ryan Winner came in second in the 1600-meter run with a 4:36.59, while Speelman was less than a second behind with his third-place time of 4:37.19. Winner, Bruns, and Speelman were joined by Lee Homan in the 3200-meter relay as the foursome dominated with a time of 8:24.89, nearly 25 seconds faster than second-place New Bremen. The Flyers also closed the day with a victory in the 1600-meter relay with a time of 3:35.74. Also capturing a first-place spot for the Blue and Gold was Lee Schwieterman in the high jump with his leap of six feet.
"We did pretty much how we expected to do today," said Flyer coach Matt Schmackers. "Our distance runners fared very well and Lee Schwieterman did a great job in the high jump. I feel we are also continuing to improve in other areas. I'm happy with how our sprint relays ran and I like where things are at right now as we head into the Mercer County meet. There are a few areas where we need to pick up more points, but overall I'm confident with the team."
It was an exciting day for St. Henry coach Mike Eyink, although his Redskins only finished in seventh-place overall. Senior Jared Stammen took the top honors in the 400-meter dash with a 53.54. In the field events, senior Steve Dailey won the discus with his personal-best throw of 146-10, and classmate Andy Buschur hit 47-2 in the shot put. Although Buschur placed third in the meet, his throw marked the third best in St. Henry history behind Jim Lachey and Dave Kanney.
"I got a chance to watch Andy hit over 47-feet today and that beats his personal-best by over four feet," explained Eyink. "Between that and Steve (Dailey) winning the discus, it was a great day for our field events. We were a little short-handed today with some kids on college visits, but I feel overall we're where we need to be. There are always some things we can improve on and I think in the next couple of weeks we will do that."
Parkway's Brandon Bowen was the only other area athlete to garner a first-place finish as he sprinted to the top spot in the 200-meter dash in 22.83 seconds. He also placed second in both the 100-meter dash and in the long jump, while his Panthers finished in sixth-place overall with 50 points. Other local teams competing were the St. Marys Roughriders, who tied for ninth place with 26 points, and the New Knoxville Rangers, who rounded out the boy's field with just two points.
Although the Marion Local Flyers only won just one event on the girl's side, they were the top local team as they grabbed the runner-up spot with 75 points, seven more than the Spencerville Bearcats.
Susann Wolf was the lone first-place Flyer, as she took the top honors in the 300-meter hurdles with a time of 47.34 seconds. Holly Fortkamp finished in second place in the long jump with a final mark of 16 feet.
"We're very excited with a second-place finish overall today," explained Marion Local's Ashley Minnich. "Susann was a pleasant surprise as she has been off for five weeks with injury. Today was her first race back, so that's very exciting. We have a few other girls that are out right now with some injuries, so hopefully we can continue to improve in the next few weeks as they come back, but for today, we're thrilled with how things turned out. We're really starting to make progress."
The New Bremen Cardinals placed first in the 3200-meter relay with a time of 9:59.52, while Amber Niekamp was the home team's lone individual winner with her first-place time of 5:38.40 in the 1600-meter run.
St. Henry's Catie Evers had the most prolific day of any athlete at the meet, winning everything she was a part of. She earned the top spots in the 100-, 200-, and 400-meter dashes and also ran a leg on the Redskins' winning 800-meter relay team. Her 32 1/2 points helped her team take fifth-place overall as they joined Marion Local as the only area girl's teams to place in the top five.
"Catie broke her own record for points today and she just keeps cruising along," commented Eyink. "She told me after the 100 that she didn't think she got off to a real good start, but that's something we can work on," he smiled.
The New Knoxville Rangers were the only other area girl's team to earn a gold medal as they won the 1600-meter relay in 4:19.98, just under three seconds ahead of New Bremen. The Rangers' Gina Bambauer earned a pair of second-place finishes in both the 100- and 200-meter dashes. New Bremen concluded the afternoon in seventh place in the team standings with 52 points, while New Knoxville and St. Marys each closed with 35 points for the ninth-place tie.